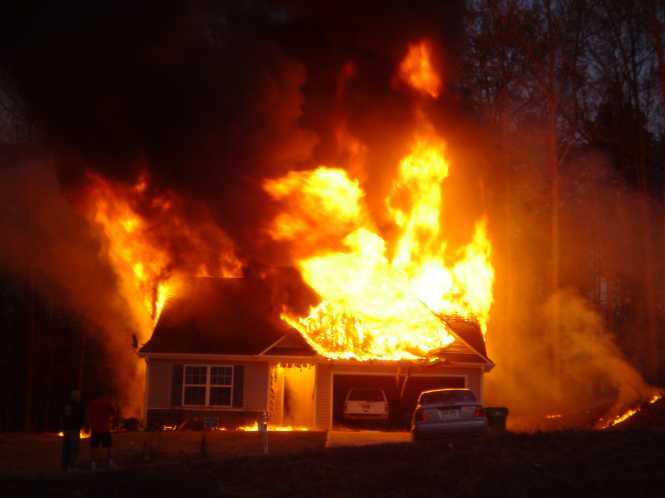 Angry residents have torched 19 schools in South Africa's northern Limpopo province, protesting a change in municipal boundaries which they say is a recipe for poor social services, as tensions rise ahead of local polls in August.
The skeletal remains of metal desk frames amid ashes and rubble were smouldering testimony to the anger of the arsonists who set the two-room Vhudzani secondary school alight.
Vhudzani was one of 19 schools completely gutted by fire this week in this citrus and banana-growing region by residents protesting the boundary modifications they fear will leave them worse off for basic amenities such as roads and water.
Students may not be the only ones to suffer. The ruling African National Congress government relies heavily on support from rural areas and local elections loom in August.
"The services will be much worse," said Tshanduko Mudau (18), a student studying tourism, as black smoke rose behind him from the Mariadze Inclusive School, set alight on Thursday.
"There are shortages of water and you can see the roads," he said, pointing to the rutted gravel track leading to the school.
The roads into the area are strewn with rocks, branches and debris by protesters who have been fighting pitched night battles with police. Several arrests have been made.
"If they don't respond, there will be no voting here," said Vuledzani Raveley (28), a local school administrator manning a makeshift roadblock who said his place of work had also gone up in flames. He said he was against the demarcation.
The wave of school burnings was sparked by a court ruling that upheld the Demarcation Board's decision to include Vuwani and some districts, currently under the Makhado municipality, into the Malamulele district, leaving residents fuming.
Officials said the merging of districts under a bigger municipality was aimed at improving social services. But residents said that the changes mean their districts will be administered from headquarters more than 100km away, instead of previous centres closer to their homes.
The persistence of poverty and joblessness two decades after the end of apartheid is also fuelling the anger, often aimed at the local governments tasked with the provision of services many blacks were deprived of under white rule.
Unemployment is around 25 percent and income disparities glaring in an economy that could fall into recession. Outbursts of collective violence over this state of affairs — dubbed "service delivery protests" — have become a common feature of South Africa's landscape that bodes ill for the ANC.
President Jacob Zuma has condemned the burnings, mindful that his party which backed him after a public backlash over a series of recent scandals, faces a tough battle against the official opposition Democratic Alliance party and the ultra-left Economic Freedom Fighters (EFF) at local polls on August 3.
Analysts say the ANC faces its sternest test at the polling booth since coming to power in 1994 — a run up to the next general election in 2019.
"It is not good news for the ANC at all in an election year. These are levels of anger seen during the liberation struggle against apartheid," said Gary van Staden, political analyst at NKC African Economics.
Complicating the situation in Vuwani is tribalism, which the ANC has been at pains to officially quench, even as it has courted traditional leaders to shore up its rural base. The majority in Vuwani belongs to the Venda ethnic group. Several Vuwani residents said they did not want to be administered by the Shangaan people of Malamulele.
"We cannot be ruled by the Shangaans," said Steven Mulaudzi (28), an assistant driver in the banana industry who comes from the Venda ethnic group. — Reuters.