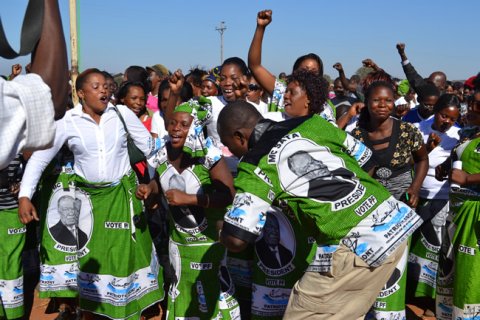 PF cadres in Solwezi yesterday disrupted a youth economic empowerment workshop and chased away participants just as they were about to receive cheques for their loans.
And acting Solwezi district commissioner Chipawa Chipawa, who confirmed the incident, said he did not have full details by press time as he was chairing a district development committee meeting.
According to one of the participants, who sought anonymity, the PF cadres arrived at the venue, Asso Lodge, in a Toyota registration number PF 22 around 09:00 hours as participants to the week-long workshop were waiting to receive their cheques.
"We were in the hall, waiting to be given participation certificates and our cheques when we were told some PF cadres were at the gate and commanded that no one comes in or leaves the lodge," the civil servant said.
"The workshop, which was supposed to be officiated by the deputy youth permanent secretary and some of the officials from the provincial administration, was meant to equip participants with book-keeping and other business skills so they don't default on their loans. But the cadres came in and said, 'At the count of ten, if you don't leave this place, you will die'."
The source said the cadres threatened to beat up everyone and that they would not allow the participants to get their cheques without any PF members benefiting.
"They said they could not allow us to get their funds when none of them was benefiting from the scheme. In fact, they said all the participants in the workshop appeared like they are from the opposition. The police came in but left after just 30 minutes after receiving instructions from their top bosses," said the sources.
"But this is so unacceptable. Who is running the country if top bosses and even the police are scared of the PF cadres? They told us to leave and the police were there. One of them said, 'If you don't leave after I count to 15, you will die!' This is unbelievable."
And Chipawa confirmed the incident but said he could not divulge more details as he was chairing a development committee meeting.
"I received that report and I went there and yes, we found the cadres were there, and also the people who were attending the workshop," said Chipawa.
"But it's only that today is 4th December and I am chairing the DDC meeting and so the two events collided and I am waiting to hear what the provincial administration will decide on the people."
ThePost