Some people tackle one problem at a time, and some multitask. Talia Frenkel is one of the latter. She saw two problems and decided to solve them both at once. And while she was at it, she created some jobs along the way.
A former photojournalist who documented disasters for the United Nations and the Red Cross, Frenkel was accustomed to seeing the havoc wrought by tsunamis, earthquakes, fires and floods. But it wasn't until she was assigned to shoot women and girls affected by the HIV/AIDS crisis in Africa (where they are disproportionately dying of the disease) that Frenkel had her epiphany.
"While I was taking those pictures I realized that unlike natural disasters, this time I was looking at a preventable disaster," says Frenkel. "It was shocking to me, that globally, the No. 1 killer of women of reproductive age (my age) is AIDS and No. 2 is maternal death — and both were preventable with a condom."
And in many of the places Frenkel took her devastating images, that very tool of prevention wasn't available (or was only available on an occasional basis). "It was a time where I was challenged and to take the anger that arises from documenting injustice and do something productive with it," says Frenkel.
So she started a new kind of condom company.
L. condoms grew out of Frenkel's first-hand experience with the women and girls she photographed — people whose lives could have been saved if only they had protection during sex. So the main tenet of L. Condoms was that for every condom sold, another would be given away to someone in need, a classic 1:1 model.
But Frenkel went much further than that.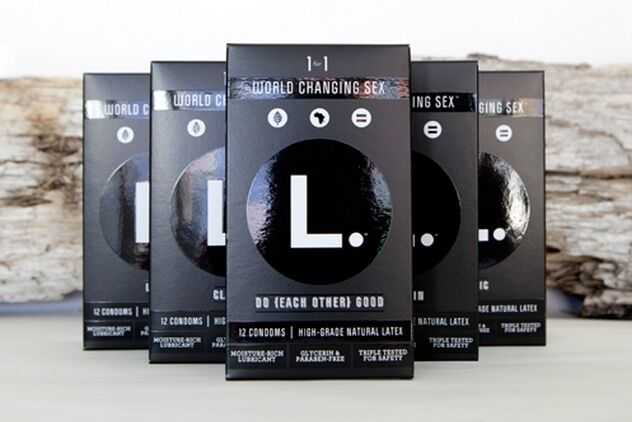 She started, in 2008, by doing some research: "I came back to the U.S. and found a lack of innovation in the condom market here. Walking down the condom aisle I wasn't very comfortable, and there weren't many natural products. It seemed like there was a real opportunity to create a brand that resonated with modern consumers and with women. Could I create a socially conscious, eco-conscious brand that's modern, sleek and gender neutral? That was basically how I started," says Frenkel.
Why gender-neutral? She wanted to acknowledge (and encourage) women to buy condoms too, and she says when she did her research, she noticed that many condoms were marketed to men only and that condoms were sold with the language and attitude of sexual conquest at their core. She wanted to change that.
"From the way we source, to the way we manufacture, package and distribute, we focus on the question of 'How do we empower women?' in the process. Women, for the most part, are the ones who are tapping the rubber tree. So we pay them a fair wage. Then we looked at what goes into our product — not including glycerin and parabens — and making sure that women have a positive experience and not one that will lead to irritation and complication when they use L.," says Frenkel. Even the packaging is black and white, colors women find appealing and powerful, instead of the typical pink, which doesn't.
She also felt that the whole experience of condoms had a lot of negativity associated with it ("People told us they were irritating, smell bad, they taste disgusting and they are uncomfortable, " she says) and so she set out to create one that solved each of these issues. The latex used in L. condoms is washed multiple times so that proteins, which cause irritation, are minimized in the final product. "We know that proteins cause the allergic reaction. We know we've dramatically reduced the proteins by thoroughly washing our latex. And we have anecdotal evidence from our users that they are less irritating — many stories of people who have allergies who aren't experiencing those issues anymore," says Frenkel.
The company's innovations don't stop with the product itself, or the way they are made. L. has even been experimenting with a condom delivery system (via bike messenger) in Manhattan, San Francisco and Los Angeles. You can order condoms to be brought to your door in under an hour. "It's been going awesome," says Frenkel. "We started off with the idea of 'what if?' Everyone thought it was crazy, but the response has been great." So great that the company is looking to expand to other cities.
L. Condoms has grown so much since it launched in 2013 that Frenkel is looking into growing the company as a whole. Because 30 percent of girls in Africa miss school because they don't have sanitary protection during their periods, Frenkel wants it introduce a line of sanitary pads and tampons — a category that she says need innovation, and are underserving consumer demand for healthier, more sustainably made products.
By: Starre Vartan | November 21, 2014, 1 p.m.
[mnn.com]