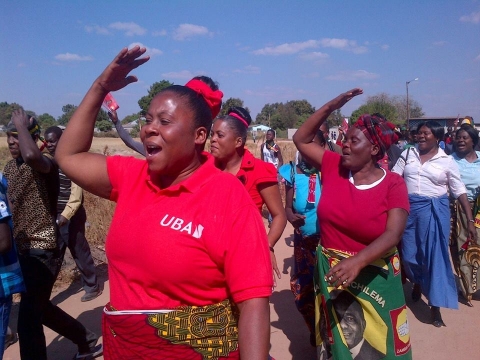 THE UPND SAYS IT HAS UNEARTHED A SCAM IN WHICH THE PF IN MBALA IS GIVING OUT CHITENGE MATERIALS IN EXCHANGE FOR INFORMATION ON VOTERS CARDS FROM RESIDENTS ACQUIRING THE DOCUMENTS IN THE ON-GOING VOTER REGISTRATION EXERCISE.
UPND-Mbala Youth chairperson, Carlos Ngoma made the allegations in an interview with Mano News last evening and named the PF sympathizer behind the scam as Fred Siame.
Ngoma, who questioned the PF's motive of getting details from prospective voters, has since called on the Electoral Commission of Zambia-ECZ to clarify the matter.
He further alleged that the police service is aware of the state of affairs, but that it has not done anything.
In a related development, two electoral officers in Kasama District have been fired for allegedly charging people to obtain voter's cards.
The embattled duo that openly admitted the offence has been identified as Sharpie Chambeshi the assistant registration officer, and a police Officer Constable Pure Chapa who was mandated to man the polling station.
This came to light when Kasama District Commissioner, Kelly Kashiwa paid an impromptu visit at Chanda Mukulu Polling station over the weekend to find out the cause of low turnout of people obtaining voter's cards in the area.
Mr Kashiwa ordered the two officers to refund the money but only managed to produce 20 Kwacha and promised to pay the rest later.
It was at this point that many local people started flocking to the station to demand for their money upon learning that they were not supposed to pay to obtain voter's cards.
And Mr. Kashiwa said such officers were not only stealing money from the poor, but depriving them of their rights to vote.
mano radio