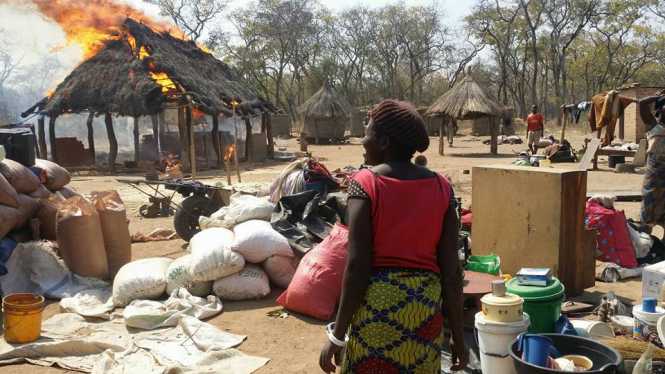 Hakainde Hichilema says, "We were recently alerted of some issues to do with our people living in this area of Mumbwa Constituency which is part of the Kafue National Park.
On being alerted, our team went on the ground and engaged relevant authorities with a view to seek an amicable solution so that these brothers and sisters, who have been living there for many years, could possibly be repatriated to other areas away from the GMA 14 in the most humane way possible.
We believed it was also for their own safety and protection that they could possibly not continue living amongst some dangerous wild animals in the protected national parks.
On Monday, while we were away on the Copperbelt meeting our brothers and sisters that side, we were informed by our team that a directive had been issued by the Minister of Tourism that these people had upto Friday to move out or face eviction.
Our team on the ground engaged the ministry through the Zambia Wildlife Authority ((ZAWA) and spoke to the director and also the Mumbwa Regional Manager who both assured us that the people will be asked to leave peacefully without any incident.
And we genuinely did all this in an effort to provide leadership in the country as part of our responsibility to assist in the governance of the country within the spirit of peaceful coexistence.
To our surprise and contrary to the assurances we got from relevant authorities, yesterday we got panic calls from people saying there homes were being burnt to the ground and that they had upto 17 hours to move there families and properties out of the game area.
In UPND, we always believe in orderliness and civil way of doing things even when our people maybe on the wrong and need guidance without resorting to barbaric actions.
We have a very strong wildlife protection policy in our party as we believe it is an important tourism venture with potential to generate huge income for the country.
With vast amount of bare land in this country, we really fail to understand why such a harsh directive and later barbaric actions of burning people's homes and property was used as a means of evicting these families with children in their own country.
We demand that government through the Disaster Management and Mitigation Unit immediately provides tents to all these families and facilitates a humane resettlement exercise for these citizens and mitigate their suffering.
As you can see from some of these structures, one wonders where the entire government machinery and institutions were when these people were building and conducting all their activities including farming for them to just wakeup and burn their properties
These are the things we sometimes wonder if anyone is in charge of the affairs of this nation who should be well briefed about these affairs affecting such and other citizens in similar situations.