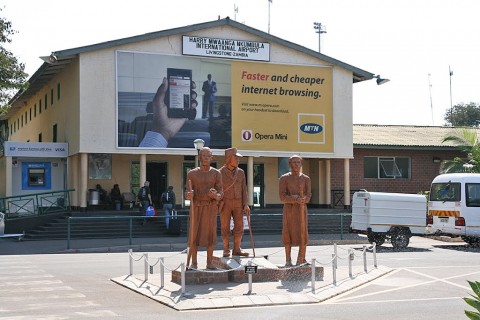 THE construction of a new airport terminal building at Harry Mwanga Nkumbula International Airport in Livingstone will complete by the end of next month and will be commissioned in October this year.
The construction of the building started in 2010, and the facility was opened for use in August 2013 before it was fully completed ahead of the 20th session of the United Nations World Tourism Organisation (UNWTO) General Assembly, which was co-hosted by Zambia and Zimbabwe.
Zambia Airport Corporation (ZACL) managing director Robinson Misitala said the international terminal building would be fully completed by the end of September and the facility would be commissioned in October 2015.
Mr Misitala said about 90 per cent of the works had already been completed and the remaining 10 per cent involved repainting of the structure, placing of tiles and ceiling board as well as improving the surroundings.
He said this in an interview in Livingstone on Tuesday this week after a delegation from ZACL and other stakeholders toured the infrastructure.
Mr Misitala said the installation of the radar at the new terminal building had reached 98 per cent completion and it was already functional while one set of staff were already undergoing training in South Africa.
"From the client point of view, we now have secured US$ 5 million which is required to complete the remaining works. We will have a meeting to review the progress made from the time we secured the funds for the project," Mr Misitala said.
He said the US$ 5million funding was adequate to complete the remaining works as equipment had already arrived for the works.
He said ZACL was mindful that the terminal building was currently functional hence the works would be done in the night to avoid interruptions on travels of passengers.
"Currently, we have seen a decline in terms of arrivals and departing passengers. We had reached 250, 000 passengers per year but figures have now dropped to about 200, 000 passengers per year," he said.
TimesofZambia