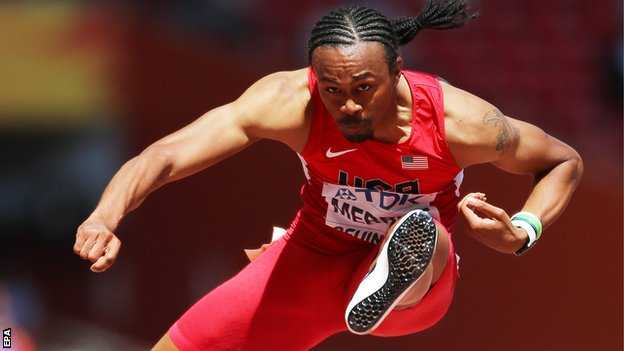 American hurdler Aries Merritt will have a kidney transplant following the World Championships.
The Olympic champion and 110m world record holder, 30, has a rare genetic disorder and will receive a kidney from his sister on 1 September.
Merritt ran 13.25 seconds to win his heat on Wednesday and qualify for Thursday's semi-finals in Beijing.
The Chicago-born athlete said he "felt like a weight was lifted" after being able to share his plight with others.
"After the Worlds, I'll focus on it," he added. "The more I train the worse my kidneys get and that's why I am getting a transplant."
Merritt was diagnosed with the disease in 2013 and was told his athletics career might be over.
"When they told me I'd never run again, my whole world ended in my mind," he said.
"That I am here again running shows me that I'm a fighter and that I can overcome anything if I stay with a positive mind.
"For this championships, I'm going to take it one race at a time."
Merritt says it has been "difficult" competing with his health issues.
"It hurts so much on the inside to know you are the best but you're struggling with this illness and you are just trying to fight through.
"I love running, I love competing, this is my life and here I am."
He remains hopeful he can defend his Olympic title in Rio next year.
"I am here in Beijing for mental sanity more than anything," he said. "I don't want to be sitting in my house cooped up in bed waiting for surgery.
"I'd rather be out enjoying life because, who knows, this could be my last championship if the surgery doesn't go well."