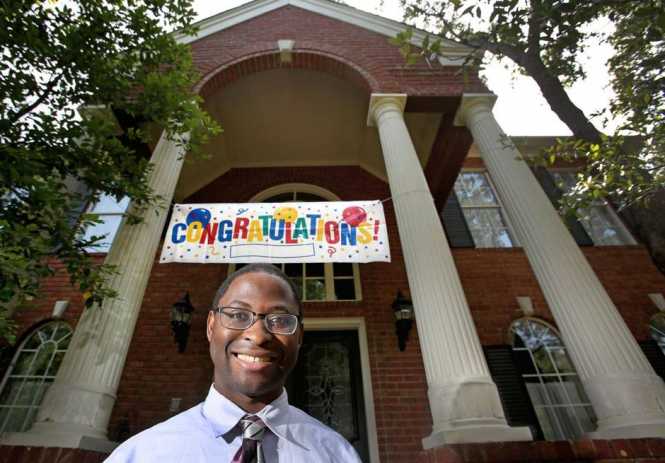 Given Kachepa seems like any other graduate: He's looking for a job and paying off student loans. But for him, getting a good job — as a dentist — isn't the end goal.
Born in Kalingalinga, Zambia, he was brought to Texas by traffickers at age 11. Now, 17 years later, he has graduated from the Texas A&M University Baylor College of Dentistry in Dallas and hopes to return to open Kalingalinga's first dental clinic.
He said he feels a sense of responsibility. "I'm the one who was blessed to be in this country," said Kachepa, 28. "I always knew I wanted to go back home and help people there."
Kachepa said his family was poor, but happy, until he was orphaned at 8. He and six siblings moved in with their aunt, who already had six children. Fourteen people shared their two-room house.
"Sometimes after school, I would work around the compound to be able to buy uniforms for school, and things that my little sister needed," he said. "There was no electricity, and there was no running water."
In 1997, he jumped at the chance to audition for a boy's choir that would tour the U.S. The choir was run by a ministry called Teaching Teachers to Teach: Partners in Education (TTT).
The ministry promised an education for the boys and said it would send stipends to the boys' families and raise money for Zambian schools.
For two years, Kachepa sang for the Sherman-based choir. But the ministry didn't keep its promises.
The head of the ministry was the subject of a criminal investigation. The U.S. Department of Labor ruled that the ministry was liable for $966,422.00 in back wages and civil penalties, according to news reports.
The ministry didn't pay the choir members, and only paid their families for a short period. No money was sent to Zambian schools, either.
Unaware, the boys worked hard, often singing up to seven concerts a day. If they didn't sing, they weren't fed, Kachepa said.
For the first nine months TTT didn't send them to school. Later, when the U.S. government was informed about the situation, the ministry home-schooled them.
After the head of the ministry died, his daughter and son-in-law took over the choir. Some of the boys complained about their situation, and the ministry threatened to send four of them back to Zambia.
A U.S. immigration agent became involved and eventually took all the boys away.
That's when Sandy Shepherd of Colleyville got a call from her pastor.
Earlier, Shepherd, a former volunteer, had called authorities and the Zambian Embassy in the U.S. about the treatment of another TTT choir. "Nobody paid any attention at all," she said. "So I said I wasn't going to have anything to do with TTT."
When she got the pastor's call, and she housed all seven choir members for the night.
Later, she became Kachepa's foster mother. At 14, Kachepa was enrolled in eighth grade. He said it was extremely difficult.
"When you're missing the foundation, I think it's very hard to recover," he said. "I was limited in my language. Nobody ever sat down with me in Zambia and taught me to read. Sometimes, it took me many, many hours to finish the homework."
But he refused to give up. He became interested in dentistry when he got braces. He was amazed that it changed the way he looked. He wished he could help his aunt when she suffered from toothaches.
His dedication increased since being able to return to Kalingalinga. He went back in 2009, after getting his green card, and again in 2013.
While Kachepa was visiting, his cousin went to a clinic over a toothache and needed an extraction. There was no anesthetic, so the dentist had two men hold him down.
"He said the pain was so unbearable that he got up and ran away," Kachepa said. "He still had a bit of the tooth left, because they didn't finish."
Kachepa was motivated to attend dental school. But classes were difficult, and he didn't do well his first year.
After five years of effort, one year longer than average, he's glad he went through it.
"The community I grew up in has never had a dentist," he said. "I kept looking back and thinking, if I keep going, I'll be able to go back and help people."
On graduation day, Shepherd said she had a box of tissues. "It's a surreal feeling," she said. "I kept looking at him and thinking — can I believe this?"
Others who had helped Kachepa also attended, including Dolly Warden, the lawyer who helped him get a temporary visa. She said she was amazed by his determination and humility. "He wants to do something that's good," she said.
It'll take Kachepa a few years to pay back his student loans. But he's already preparing for his clinic. "If I can build a business that is self-sufficient, then that will set the example for kids there," he said.
Graduation was a milestone, but he said his journey isn't close to finished yet. "I want to provide a service," he said. "So I can help others as much as I've been helped."