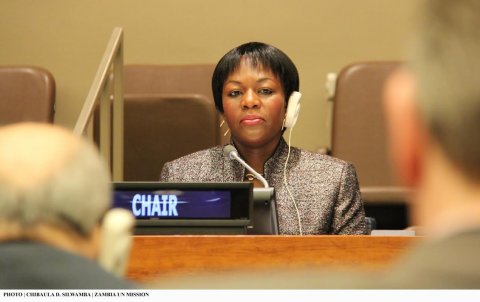 NEW YORK, Tuesday, April 21, 2015 – African Governments should prioritise issues concerning the wellbeing of youths in policy developments, says Zambia's Mission to the United Nations.
This was said during the launch of a report titled "Realising the Future We Want, The State of African Youth", organised by the Permanent Mission of the Republic of Zambia to the UN and the United Nations Population Fund (UNFPA) in conjunction with AIDS Accountability International (AAI) on the sidelines of the just-concluded 48th Session of the Commission on Population and Development (CPD) at UN Headquarters.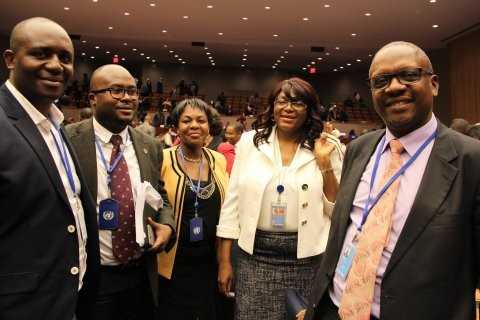 The report focuses on creating transparency on current data on youth in Africa, provides a set of recommendations to contribute to dialogue and debate, and calls on stakeholders to action to address the challenges facing African youths.
"Over the past 20 years since the adoption of the International Conference on Population and Development (ICPD) Programme of Action, Africa continues to go through several remarkable demographic, political, social, economic and environmental changes. Noticeable among these is the ever growing population of the youth on the continent which currently stands at 70 percent being below the age of 30," said Zambia's Deputy Permanent Representative to the UN, Christine Kalamwina.
"This makes Africa the continent with the highest number of young people in the world. A situation that calls for African governments to prioritize youth issues in their policy development."
She said it was sad that HIV/AIDS, TB and Malaria continue to affect African youths.
Ms Kalamwina said primary, secondary and tertiary education remain pivotal to Africa's success and there was need to broaden its coverage and quality.
She said African youths should get engaged in electoral processes and governance issues to ensure transparency, legitimacy and accountability among leaders.
"The report we are launching provides evidence-based advocacy tool for African Youths to use in ensuring they have accurate and applicable knowledge when they get an audience with decision-makers," said Ms Kalamwina. "Together we can help realise the future African youth we want by acknowledging the state of African Youths today, the challenges they face, the opportunities that abound and the role that stakeholders can play in securing them a better future and with it a better future for Africa."
Issued by:
CHIBAULA D. SILWAMBA (Mr.)
First Secretary for Press and Public Relations
Permanent Mission of the Republic of Zambia to the United Nations
Facebook: https://www.facebook.com/MissionofTheRepublicofZambiaToTheUnitedNations?fref=nf