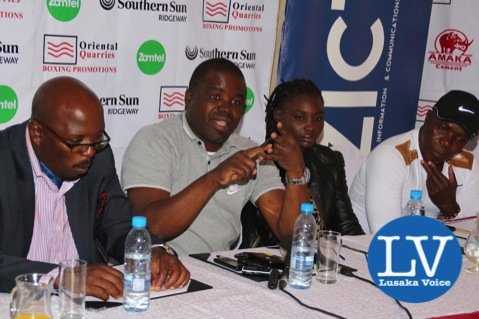 The Zambia Information Communication Technology Authority-ZICTA- has unveiled female boxer Catherine Phiri as its Child Online ambassador.
ZICTA Consumer Protection Officer Edgar Mlauzi says Catherine is a role model for many young people in Zambia.
Mr Mlauzi says many youths are abusing the internet instead of using it for research purposes.
He says there is need for Catherine to be ZICTA's goodwill Ambassador in an effort to encourage young people to be cyber-smart.
The mobile regulator has also pledged to sponsor the female boxer's college education.
And Catherine said she is humbled by the gesture by ZICTA, adding that she will do her best to educate youths on how to effectively use the internet.
Meanwhile, Oriental Quarries Boxing Promotions Operations Director Christopher Malunga advised Catherine to maintain her discipline.
Malunga also disclosed that preparations for the World Boxing Council -WBC- bantamweight interim gold championship are on course.
He said 542 thousand, out of the required 762 thousand kwacha has so far been raised for the bout.
Catherine is set to fight CHRISTINA McMahon from Ireland for the WBC bantamweight interim gold title at Mulungushi International Conference Centre in Lusaka on May 2nd, this year.
McMahon is expected to arrive in the country on Sunday, April 26.
Credit-ZNBC