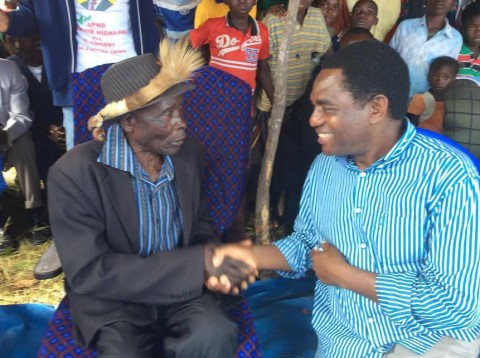 UPND President Hakainde Hichilema has congratulated Patriotic Front candidates for emerging winners in yesterday's parliamentary by-election.
Mr Hichilema however stated that the UPND has once again demonstrated that it is the only major opposition to the current PF Government.
He says the inroads the UPND has made into Eastern Province and the party's strong performance in the Senga Hill parliamentary by-election also provide further evidence that the UPND's popularity continues to surge across the length and breadth of the country.
Mr Hichilema in congratulating the wining candidates has appealed to them to serve the public's interest at all times, putting aside selfish or personal interests.
He however, states that voter apathy was once more the real winner in yesterday's by-election, with low voter turnouts recorded, with just 15% of registered voters turning up in the Chawama parliamentary by-election.
Mr Hichilema says Zambians, having been let down by government after government, are understandably fatigued by politics.
He says elected representatives must regain the confidence of the people by working hard in a transparent manner and serving the interest of all their constituents equally, and not just those that have voted for them.
The UPND leader says his party will continue to deliver its message that Zambians deserves better from their Government and that change is well within reach in 2016.
Mr Hichilema states that there is need for all to work together to ensure free and fair tripartite elections in 2016.
He has also welcomed the decision by President Lungu to heed to the UPND demand for the nomination of a new Chairperson for the ECZ.
Mr Hichilema says attention should now shift towards the scrutiny of the nominees, the upcoming voter registration exercise, and working with the ECZ to ensure problems presented by past elections are addressed, so that a level playing field and a transparent process for 2016 is ensured.
CREDIT – QFM NEWS