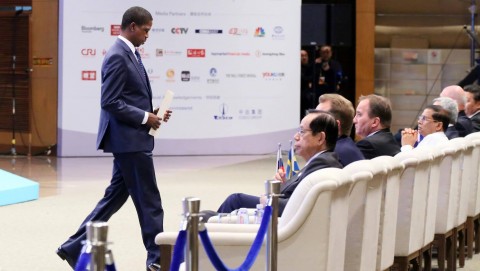 Government has disclosed that Zambia attracted a total of US$2.4 billion in investment pledges from Chinese companies during President Edgar Lungu's recent state visit to China.
Minister of Commerce, Trade and Industry Margaret Mwanakatwe further said an additional US$800 million investment pledges are expected to flow in the country.
Mrs. Mwanakatwe said the investment pledges were made during the business forum, bilateral meetings and other side events which her ministry organised in Beijing on March, 31, 2015 between Zambian companies and Chinese firms.
She said the Chinese firms expressed interest to invest in key economic areas such as mining, rail construction, cable manufacturing, milling, agriculture, timber production, pharmaceutical and motor assembly.
Mrs. Mwanakatwe said the industries will be set up at the Lusaka East, Lusaka South and Chambeshi Multi Facility Economic Zones and other places across the country.
She said this at a press briefing in Lusaka today.
Mrs. Mwanakatwe further said the setting up of these industries in the country will create massive employment opportunities for the Zambian people.
And Mrs. Mwanakatwe said the recent state visit of President Edgar Lungu to
China has enhanced and deepened cooperation between the two countries in the areas of trade and investment.
Mrs. Mwanakatwe said her ministry will facilitate the setting up of firms and identify local entrepreneurs to partner with the Chinese companies.
She said the move was aimed at ensuring that government's commitment to job creation and industrialisation in the country becomes a reality.-Zanis