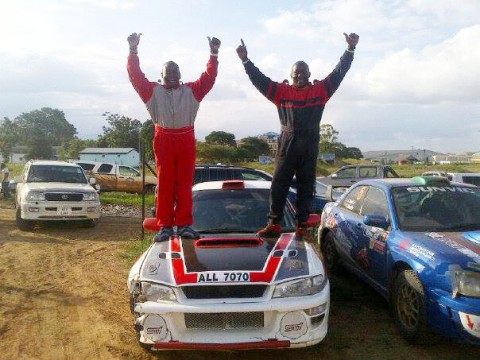 GEOFFREY Chulu says he deserved to win the tightly contested Zambia Motor Sport Association (ZMSA) Pembe national rally held in Chisamba.
The second round of the national rally was, however, marred with controversy after champion Jassy Singh was earlier announced as winner before the results were overturned in favour of Geoffrey, who is navigated by his brother Laston.
Geoffrey said in an interview in Chisamba at the weekend that it was a sweet victory.
He said it was good justice that saw him win the rally because he had worked hard with his brother to achieve the result.
"Honestly, this makes us extremely happy because this is what we have been practicing for over the weeks. This has also given us impetus to continue racing because really our efforts are bearing fruit," Geoffrey, who was flanked by Laston after been confirmed winners, said.
The Pembe rally was so tight throughout with the pressure extending from the drivers to the Stewarts and everyone in the line as after the race finished, Jassy was announced as winner which prompted a protest from the Chulu's over the result.
Initially the ZMSA announced that Jassy had won the race with a time one hour one minute and 52 seconds with the Chulu in second place with a time of one hour two minutes and 21 seconds while Muna Singh Junior was third timing one hour three minutes and 50 seconds.
In fourth place was Shabir Amin who clocked one hour five minutes and 16 seconds, and Chamanga Biyela fifth on one hour 12 minutes and 14 seconds.
But after the Chulu brothers protested the result claiming there was a mistake somewhere in one of the most contested races seen of late, the tables were turned with Jassy's time adjusted correctly to one hour two minutes and 52 seconds from one hour one minute and 52 seconds.
That saw Chulu's time of one hour two minutes and 21 seconds the best of the day to claim the victory and K4, 000 prize money leaving Jassy Singh with a sour taste in his mouth.
Jassy refused to get his K3, 000 runner-up prize after the new results were announced but was more angered with the 25 points he missed out as he settled for 18 points.
CREDIT – By GWEN CHIPASULA and MWANGALA LISELI – TIMES