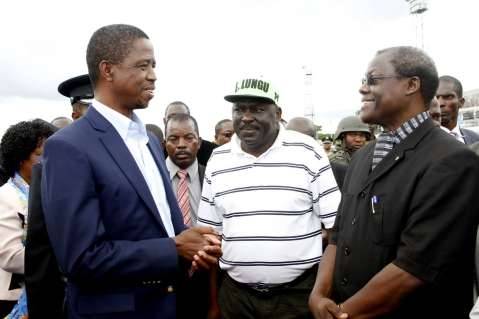 PATRIOTIC FRONT (PF) secretary general Davies Chama says the party will take appropriate action against enemies of President Lungu and those campaigning for his (Chama's) removal.
Mr Chama said he is not moved by machinations to get rid of him as party secretary general because he has not done anything wrong.
"I am not worried because these people whose aim is to disturb President Lungu are not even members of our party but they will not manage," he said.
Mr Chama said he was assigned by President Lungu to organise the party up to 2016 but that enemies of the PF who are not happy with his hardwork feel he must be removed.
"Within a month of being in office, what wrong could I have done to warrant such attacks? I cannot be assessed within the one month in office, even employment assessments are done after three months," he said.
Mr Chama said the people advocating his removal are malicious and misinformed and just after monetary gain but PF will not allow that to happen.
"We want to accommodate everyone as PF and also dialogue with these malicious people with a view of working together," he said.
Mr Chama said, however, that he has powers to flush them out of the party if they continue being malicious and attacking President Lungu.
KELVIN CHONGO – Daily Mail