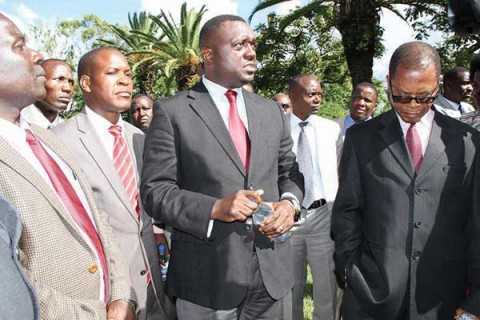 Speaker of the National Assembly Patrick Matibini has admonished Mazabuka Central Member of Parliament Garry Nkombo for uttering an obscene word against northern province Minister Freedom Sikazwe on Wednesday, 17th December, 2014 on the floor of the House.
In his ruling, Dr Matibini said the conduct of Mr Nkombo is shocking not only to his as Speaker but to the house as a whole and the public at large, considering that he is a long standing Member of Parliament, a UPND Whip in the house and a member of the Committee on privileges, absences and support services.
Dr Matibini reminded Mr Nkombo that his should therefore be exemplary.
He said he hoped that this is the last time Mr Nkombo will be the subject of a matter before the Committee on privileges, absences and support services.
The Speaker further stated that he hoped Mr Nkombo realizes and regrets that his conduct became the subject of public discussion in a manner demeaning the house.
Dr Matibini adds that the Mazabuka Central MP's conduct lowered the integrity and dignity enjoyed by the National Assembly.
And Mr Nkombo has unreservedly apologized to the Speaker, the house and to the nation and public at large for using an obscene word against Mr Sikazwe on the floor of the house.
He has promised to in future abide by the rules and procedures of the house and act in a manner befitting a Member of Parliament.
QFM NEWS