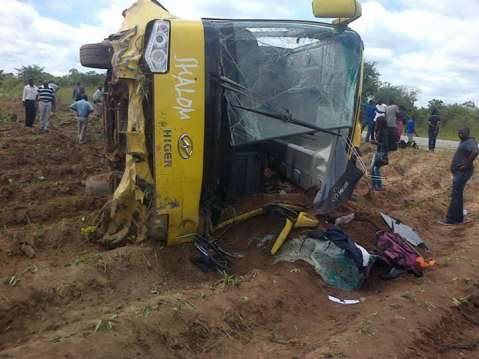 24 people this morning sustained injuries after a Livingstone Bound Shalom Higer Bus overturned.
Eight out of the 24 passengers sustained serious injuries and are currently admitted to Choma General Hospital.
Southern Province Assistant Police Commissioner Kashif Mphande confirmed the accident to ZANIS, which happened around 11:30 hours, five-kilometres south of Batoka along the Livingstone Road.
Mr Mphande says the driver of the Shalom bus registration number AJC 8476 , identified as Carlos Chilambwe of Chawama Township in Lusaka failed to control the bus after a front tyre burst.
A check at the hospital, found scores of passengers being attended to by health personnel at the Out-Patient Department.
And co-driver, Lastone Lungu, who sustained deep cuts on the face and hands, praised God that no life was lost in the Accident.
ZNBC – PHOTO CREDIT – ZWD