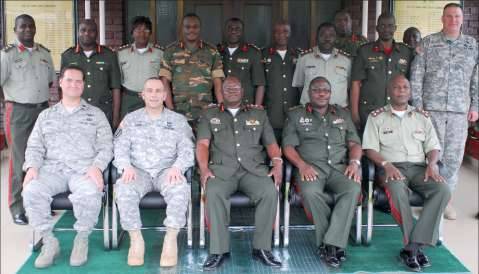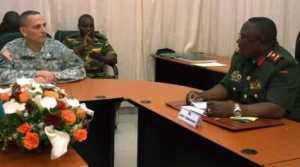 LUSAKA, Zambia – Military personnel from the Southern African Development Community, Zambia Defense Force, U.S. and other partner nations gathered in Lusaka, Zambia to participate in the U.S. Africa Command-sponsored Southern Accord 15 Main Planning event, recently.
This planning event brought in 72 planners from many parts of the world. Attendees included Zambian, U.S., Malawi and Dutch representatives. Planners coordinated logistics, communications, confirmed locations and finalized a scenario directly impacting an upcoming real-world African Union/United Nations mission.
"We look forward to working with our valued partners of U.S. Africa Command and U.S. Army Africa in responding to crisis in the region and peace keeping operations," said Deputy Army Commander and Chief of Staff Maj. Gen. Lubaya, of the Zambia Defence Force, during opening remarks on Feb. 2.
Approximately 800 participants from 11 countries are set to take part in the event. SA15 combines lessons learned from previous medical, logistic, communication academics, tactical and team-building exercises that will culminate in a command post and field training exercises. SA 15 is centered on an upcoming real-world deployment of a Zambian training battalion in support of a U.N. peacekeeping mission to the Central African Republic. This is the first time an Accord-series exercise will be hosted in Zambia.
This event has many new twists making this exercise dynamic and cutting edge.
For the first time, a combat support hospital will be used for medical training and support to an Accord exercise mission.
"When our higher headquarters offered us the opportunity, we jumped at the chance to participate," said Col. Kimberly Smith, chief nurse of Clinical Operations, 212th Combat Support Hospital, 21st Theater Sustainment Command in Miesau, Germany.
The CSH will provide medical support to a U.S. and Zambian battalion taking part in live-fire training while concurrently providing medical training to ZDF personnel. According to Smith, the use of a CSH in this configuration will be a novel employment. The CSH will offer U.S. and U.N. services by providing emergency response, resuscitation, intensive care, surgery, basic pharmacy blood bank, laboratory, and radiology services.
"Our goal is to achieve validation of an innovative, modular configuration of the CSH. This is the first time we are employing a CSH in support of a training mission. CSH's are typically deployed at corps-level and above. For this exercise we are adjusting the size to fit the mission. The ability to successfully employ the CSH in the new format will mean that we are successful in providing care at all levels. We look forward to achieving our goal in SA15," Smith said.
USARAF's regionally aligned brigade also has a direct role in training ZDF, who are preparing to deploy to the Central African Republic. Capt. Dary Antonetty of Fourth Brigade, 1st Armor Division, Fort Bliss, Texas has been a part of several Accord-series planning events since being designated as the RAB.
"Our squadron will gain expertise in dismounted operations in unfamiliar terrain while experiencing combined training at all levels. The ZDF is a professional force. They will benefit from our training and how we operate. In turn, they will develop their own standard operating procedures that can be implemented at the battalion, company and squad level. At the same time we are learning from them as they are versed in conducting peacekeeping operations throughout the continent. This is some cool stuff. " Antonetty said.
Direct guidance for the success of SA15 was provided by one of USARAF's deputy commanding generals.
"There are specific tasks that we must do to be successful," said Brig. Gen. Peter L. Corey.
"We have three priorities for SA15. We will be safe, form enduring relationships and achieve all of our training objectives," Corey said. "We will teach, coach and mentor. We are going to train to a level that is sustainable for our partners, and we are going to learn. I guarantee we are going to learn."
"For U.S. Army Africa, SA15 is an example of U.S. and African countries training together to contribute to a desired end state of a secure and stable Africa. This mission is important and will directly provide for a safer Zambia," ZDF Col. Charles Nakepa, deputy brigade commander said.
The SA15 final planning event is scheduled for mid-April. Southern Accord 15 will take place in early August.
 http://www.usaraf.army.mil/NEWS/NEWS_150302_sa_15_mpe.html