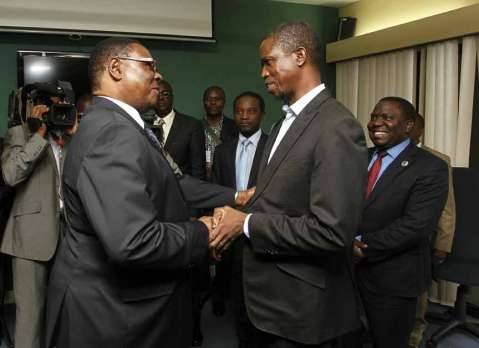 By ANTHONY MULOWA  in Addis Ababa, ETHIOPIA –
PRESIDENT Edgar Lungu has called for increased trade between Zambia and Malawi.
Mr Lungu has also said that Zambia and Malawi have great tourism potential which both countries must explore as a joint venture.
Speaking when he held bilateral talks with his Malawian counterpart Peter Mutharika at Hilton Hotel in Addis Ababa on Thursday afternoon, Mr Lungu said Zambia and Malawi could work together to boost trade.
"Regionally, I would like to see how Zambia and Malawi can work together to improve resources," Mr Lungu said.
"We should enhance the relationship. There is a lot of trade we can do in our two countries and also value-addition, let's see what you are doing to those groundnuts and tobacco."
The Zambian Head of State said Africa should move away from the tradition of exporting raw materials and instead add value to its products before exporting them.
"We have seen a situation where we send raw materials out of the country for processing and they come back with enhanced value and you pay three times the value, which we could have done at home," the President said.
On Tourism, Mr Lungu directed Tourism and Arts Minister Jean Kapata to work with the Malawian government to improve the sector in both countries.
Meanwhile, Professor Mutharika has congratulated Mr Lungu for emerging victorious in the tightly contested presidential election.
Prof Mutharika said Zambia had continued to show that it was a democratic nation where polls were conducted in a peaceful manner.

"He (Mr Lungu) has just gone through a tough election and everyone accepted the results. This is how we should go as Africa," Prof Mutharika said.
"I went through an election just like that nine months ago except that yours was decided in 24 hours while mine took eight days for the verdict to be announced but Mr President, I want to congratulate you for the wonderful victory."
The Malawian leader also commended the Zambian Government for the financial and material support rendered to his country which had been ravaged by floods.
He said more than 120 people were recorded missing and that the damage as a result of the floods was estimated at between US$60 million to $70 million.
Prof Mutharika said to reconstruct the schools, clinics and other social amenities, his country needed more than $90 million.
The Malawian leader also called for increased cooperation in infrastructure development and transport.
President Lungu later held closed-door bilateral talks with his Egyptian and Kenyan counterparts.
[Times of Zambia]