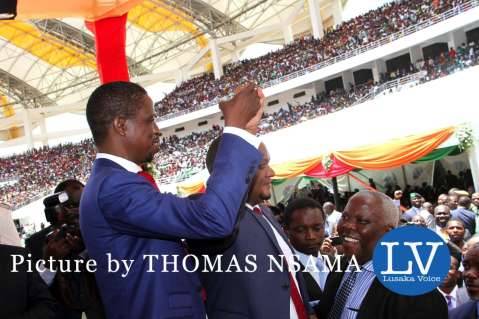 The Zambia Congress of Trade Unions (ZCTU) say they have no doubt that as President Edgar Lungu steers the country to social and economic prosperity, he will remain a beacon of hope to the people of Zambia in general and the workers in particular.
In a congratulatory message to President Lungu on his election, ZCTU Director Public Relations and International Affairs Martin Chembe says the election of Mr Lungu to the highest office of the land demonstrates the trust and confidence the Zambia people have in him to take national development forward.
Mr Cheembe notes that the country is faced with several social and economic problems such as poverty, unemployment and social exclusion which need to be addressed.
He says ZCTU prays that President Lungu will rule with a lot of magnanimity and that the whole country will accept his leadership graciously in order to foster unity and for the country to forge ahead with national development.
Mr Chembe states that the challenge ahead is no to push on the frontiers of development to achieve sustainable development and prosperity.
qfm