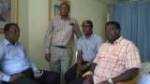 Patriotic Front presidential campaign manager Willie Nsanda has been discharged from Netcare Milpak Hospital where he was being treated for a blocked bladder.
And Mr. Nsanda has dispelled rumours on online media that he was in Johannesburg to rig elections because ballot papers for the January 20 presidential elections were being printed in the same city.
Mr. Nsanda, who was speaking to journalists before leaving the hospital when representatives of political parties observing the printing of ballot papers visited him, said he was now well after doctors conducted an emergency operation to remove blood clots that caused the blockage.
He said his condition was life threatening and as such he had to rush to seek medical attention in South Africa because Zambian hospitals did not have equipment to conduct the operation he required.
"I am feeling much better now. I was in a critical condition. My bladder was blocked so I came here not with a chartered flight but with a commercial plane. They conducted an emergency operation on me on Saturday," he said.
And on assertions that he was in South Africa to help rig elections, Mr. Nsanda, who is also Road Development Agency (RDA) board chairperson, described the rumours as evil.
He said the media should exercise responsible journalism by being factual and not abuse the freedom government has given it.
"Those (people spreading rumours) are evil people. You see we have given freedom to the media but some people are misusing it.
But may God bless those people because they will never fall sick," he said.
Mr. Nsanda also expressed gratitude to representatives of political parties who took time to visit him.
"I want to thank all the political parties who came to check on the printing of ballots for coming to see me. That is the spirit instead of fighting all the way, that is how Zambians should live," he said.
Mr. Nsanda will however not fly to Zambia on medical advice from doctors until after his medical review scheduled for Thursday next week.