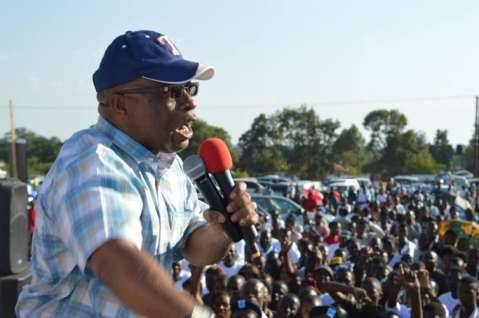 "Bees are always found where there is honey. If there are no bees, there is no honey." – Nevers Mumba
Dr Nevers Sekwila Mumba, duly democratically elected Party President of theMovement for Multi-Party Democracy, the New Hope MMD, took full advantage of his natural wit and good oratory skills to present a clear point-by-point campaign message to Copperbelt residents who gathered to hear where he would take the country if voted into power on 20th January 2015.
The rally, characterized by excited and passionate calls from a large group of Copperbelt University students calling him "Uwamano! Uwamano!" (The Wise One! The Wise One!) gave President Mumba a tough time to keep them quiet as they kept calling to him that he was the only one who could come to the rescue of university and other college students countrywide, as they accused the Patriotic Front government of having abandoned them.
Dr Mumba, whose entourage arrived to a thunderous and enthusiastic welcome, received moral support from MMD Provincial leadership teams who travelled for the rally from as far as Northern, Muchinga, North-Western and Western Provinces and was supported by National Executive Committee members Elizabeth Chitika, Winnie Zaloumis, Chembe Member of Parliament Mwansa Mbulakulima, Muchinga Member of Parliament Howard Kunda and long time stalwart and now MMD Trustee, Dr Peter Machungwa. He was also accompanied by his wife Florence to whom he has been married for over 30 years.
Top on the agenda were remarks aimed at assuring party members and the general citizenry across the country not to lose heart at the issues currently going on between himself and former Republican President Rupiah Banda and called the challenges as characteristics of any attractive and vibrant party. He drew a parallel to the fact that "Bees are always found where there is honey. If there are no bees, there is no honey."
He was making an apparent reference to the fact that in 2012, he took over a demoralized, harassed, leader-less MMD, fraught with huge debts and a de-registration threat hanging over its neck. He began to re-energize, re-brand and re-build the party to the point that now everyone can sense that it has "honey", hence the sudden presence of the "bees".
The rally was beamed live on MUVI and ZNBC TV and carried live on radio and was broadcast into most key areas of the nation including Northern Province. Dr Mumba spelt out several campaign points to persuade the voters to give a chance to the new MMD under his leadership which now has a new democratically elected Party President and a new enhanced political direction premised on Morality and Integrity.
Dr Mumba said the new MMD which has been rebranded to rid itself of the old image of corruption and arrogance should be given the national vote in January 2015 for Dr Mumba to assume the position of Republican President. This shall ensure the MMD transforms the nation into a new modern Zambia which shall be a role model and envy of the whole Africa.
Read full article on MMD WebsiteNEVERS BRINGS HOPE TO COPPERBELT