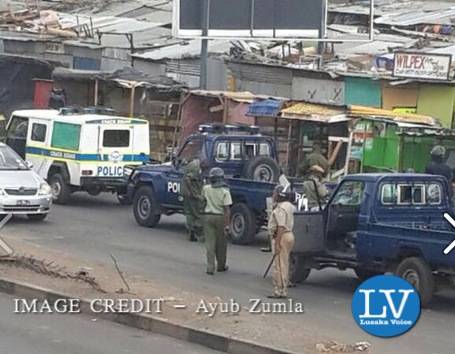 By CHUSA SICHONE –
BUSINESS in the Lusaka central business district yesterday came to a standstill after Patriotic Front (PF) youths clashed and, in the process, damaged a Metro Cab vehicle recently donated by Matero Member of Parliament Miles Sampa.
The skirmishes occurred around 13:00 hours on Lumumba Road near Lusaka City Market and sent shop owners panicking and closing their premises for fear of possible looting.
Vendors also abandoned their stands to catch a glimpse of the damaged Metro Cab.
Traffic on Lumumba Road stopped flowing from one end to another after curious onlookers sealed off the southern part of the road, while motorists heading to the southern side of Freedom Way were seen u-turning.
The arrival of police in riot gear in several siren-blaring vehicles together with their C-5 counterparts armed with guns prevented the Metro Cab from further damage.
By this time, smoke was emanating from inside the vehicle but it was immediately put out.
The arrival of the police resulted in curious onlookers scampering for fear of being apprehended.
Most shops on Lumumba and Freedom Way remained shut for the rest of the afternoon.
Times of Zambia