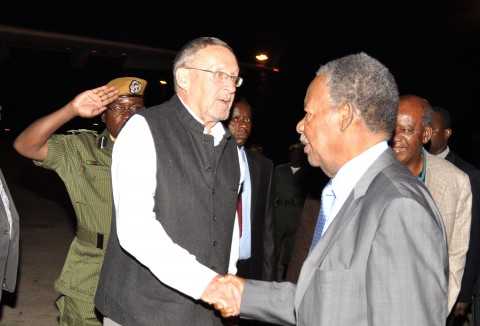 FORMER First Lady Christine Kaseba says the power struggle and infighting in the Patriotic Front (PF) is heartbreaking for the late President Sata's family.
And Dr Kaseba has called on Zambians to rally behind acting President Guy Scott as he discharges his functions because late President Sata was fully conversant with the provisions for succession and was confident in his choice of Dr Scott as Vice-President.
Dr Kaseba said this yesterday after she and Dr Scott laid wreaths on President Sata's grave at Embassy Park in Lusaka.
"Fights are normal in any relationship but we are praying that Michael [late President Sata], wherever he is, may intercede somehow so that God can direct the way for the party," Dr Kaseba said in an interview with journalists.
And in a statement, she said the republican constitution clearly indicates that the Vice-President assumes the functions of President in the event of the death of an incumbent President.
"When my dear late husband, Mr Michael Chilufya Sata, travelled to London, he was seeking medical help but did not expect to die and did not leave any specific provisions or instructions for this eventuality other than what is provided for in the republican Constitution and indeed in the PF Constitution," Dr Kaseba said.
She said in this light, late President Sata did not anoint anyone to take over as President of the PF or indeed of the republic of Zambia.
"The late President was committed to discipline and the rule of law. In this regard, it is critical that all due processes be followed in the spirit and the letter of the PF constitution and indeed the Laws of Zambia," Dr Kaseba said.
In the earlier interview, she also said the squabbles in the PF can only be resolved by putting God first.
Dr Kaseba urged the party to follow its constitution when choosing a leader.
She called on the nation to rally behind Dr Scott as he discharges his functions as acting President.
Dr Kaseba said there are many views but that the law must be respected.
"There is a lot of controversy surrounding Dr Scott's acting but my husband knew what he was doing when he appointed him Vice-President as he had a lot of trust in him," Dr Kaseba said
She also said she is still mourning President Sata's death and only God knows whether she will contest the presidency in future or not.
She also said her family is humbled and grateful for the manner in which the late President was mourned.
"Our wish is that we move on with the same spirit we exhibited during the funeral and that we will be able to live as one so that the late President's spirit will be able to rest in peace," she said.
Dr Kaseba also thanked the media for the good coverage and for assisting the nation and the world to understand who President Sata really was.
Also present at Embassy Park was Dr Scott's wife Charlotte, Minister of Local Government and Housing Emmanuel Chenda and Lusaka mayor Mulenga Sata, among other relatives and clergy.
Zambia Daily Mail