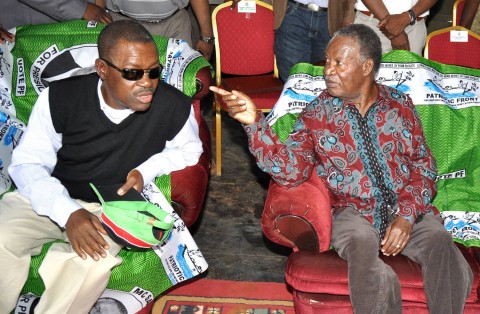 The Post
IT is a painful day to bid farewell to a comrade and great leader whose humility has left an indelible mark in all our hearts, says Wynter Kabimba. Kabimba said president Michael Sata was so proud of his background that he never attempted to change his lifestyle at State House. "It is such a painful day and a painful feeling to bid farewell to a comrade, a great leader whose humility has left an indelible mark in all our hearts. I hope those of us who claim to be his disciples can learn his lessons of humility and simplicity. Not claiming to be his disciples because he gave us jobs, but claiming to  be his disciples because the man was good for this country and he meant well for all the citizens," he said. Kabimba said president Sata rose from a humble background and remained proud of his humble beginnings. "Michael rose from a very humble background but he was proud of it. How many presidents would actually go to London as Head of State and announce that 'I used to sweep the platform at Victoria railway station  here in London?' Very few people.
I have not heard of any African president conceding that. Michael never attempted to rewrite his history, but he used his history and background to encourage others that you can come  from those humble beginnings and come and serve your country in the  highest position," he said. Kabimba described president Sata as a patriotic leader. "Like St Paul said in the Bible, he ran his race, he fought his  fight politically and otherwise, and overall, he kept the faith of a  nationalistic leader," he said. And Kabimba said president Sata breached security protocol whenever he felt the need to interact with ordinary people. "Michael didn't think that just because he  had become president, he became different from the ordinary people. Even when you said to him that you ought to be conscious of your security, his response would be, 'Who will kill me?' Because as far as he was concerned, he didn't see the threat to his life  coming from an ordinary person because he still considered himself one of them," he said. Kabimba said from a conventional rule of security, president Sata was a difficult person to handle. "Obviously, from conventional rules of security, he was a very difficult president to handle because he could break away from his security at any point to go and shake hands with children, ordinary people and old women. That's what Michael wanted. Those are the people who will feel the deepest pain of losing such a leader," he said.
Kabimba said some people had never visited State House until Sata became president. "That is why you saw against many people's views, he continued to  open his doors to the most ordinary person of society even when he  became president. There were many people who didn't know where State House  was and how it looked until Michael Sata became president. Many people benefited from that gesture. All the chiefs of this country had an opportunity to visit him at State House and share their views. Again, those are the people who share the pain of biding farewell to Michael," he said. Kabimba said president Sata was respected by his subordinates because he never looked down on them. "For the period that he was the president, I never heard him say to  anybody in Cabinet or even in the party central committee 'Don't talk to me like that'  or 'Don't argue with me because I am the President of Zambia' never!" said Kabimba. "But when it came to making firm decisions, you could rely on him and he  made those decisions not in his personal interest but in the interest of the party and the country at large.
Michael wanted to work with anybody, including those that insulted him as an opposition leader. When you questioned that, he would ask you and say, 'Did they insult you? I am the one they insulted and I have forgiven them, so why are you failing to forgive?' That was Michael's character. For me, who worked with Michael for over 30 years and all those who knew the man well, it's a bitter farewell to Michael, and this country will miss him." – See more at: http://www.postzambia.com/news.php?id=3875#sthash.lRUrvENM.dpuf
The Post