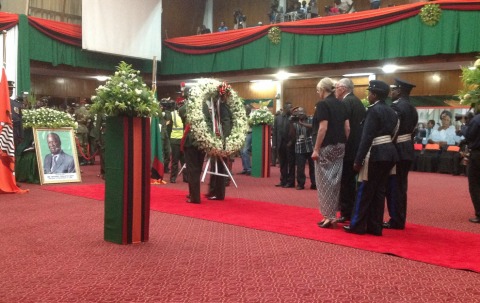 A MASS in honour of President Sata will be held on November 8 in Kabwe at Godfrey Chitalu Stadium.
Central Province permanent secretary Edwidge Mutale said this in a statement released in Kabwe yesterday.
"Following the untimely death of our President, His Excellency Mr Michael Chilufya Sata on 28th October 2014 in London, Central Province will hold a high mass in honour of our late president on Saturday, November 8, at Godfrey Chitalu Stadium starting at 09:00 hours," Mr Mutale said.
Ms Mutale also said the book of condolences has been opened at boma Conference Hall at the provincial administration.
"The book of condolences has been opened and placed in the boma conference hall at the provincial administration. People should feel free to come and sign," she said.
And Chief Kanyesha of Luano district in Central Province has described  the death of President Sata as a great loss to Zambia.
And Mkushi South lawmaker Davies Chisopa has paid tribute to Mr Sata for having visited Luano to campaign for him prior to the September 11 parliamentary by-election.
"He was a great leader and he had a vision for the country. His death is a great loss for all of us," Chief Kanyesha said.
Chief Kanyesha described Mr Sata as a great leader, who diligently served the country.
He said Mr Sata was a development oriented leader and this is why Zambia is experiencing infrastructure development.
Meanwhile, Mr Chisopa  said : "The death of the President is heartbreaking. The people of Luano are also mourning President Sata.".
Mr Chisopa said people of Luano are grateful to Mr Sata for establishing Luano district.
Zambia Daily Mail