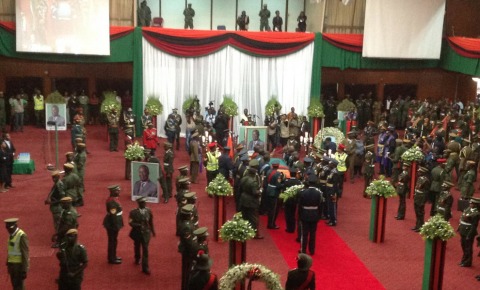 A DARK cloud hung over the Mulungushi International Conference Centre (MICC) yesterday as mourners gathered to get a glimpse of the casket carrying the body of President Sata.
Mourners from all walks of life started gathering at the entrance of the MICC as early as 9:00 hours for the programme that was scheduled for 13:00 hours while the Patriotic Front (PF) choir and a combined choir of the armed forces sang solemn songs.
The heavily guarded entrance and the drive-way leading to the auditorium were decorated with portraits of President Sata.
A sombre mood characterised the auditorium as the various choirs continued to sing solemn music while waiting for the arrival of the body of President Sata.
The sound of the helicopter around 12:35 hours sent mourners wailing as it signified the arrival of the body.
First Lady Christine Kaseba-Sata, acting President Guy Scott and his wife Charlotte, Minister of Justice Edgar Lungu, acting chief justice Lombe Chibesakunda and  Speaker of the National Assembly Patrick Matibini accompanied the body.
Also in attendance were former presidents Kenneth Kaunda and Rupiah Banda, former first lady Maureen Mwanawasa, former President Frederick Chiluba's widow Regina, secretary to the Cabinet Roland Msiska, cabinet and deputy ministers, some opposition party leaders, service chiefs and diplomats accredited to Zambia.
The brief wreath-laying ceremony specifically for the First Lady Dr Kaseba-Sata and acting President Dr Scott and his wife Charlotte was also attended by close family members.
The grief-stricken Dr Kaseba sent mourners into raised levels of wailing when laying a wreath on President Sata's casket at 13:01 hours.
The body of President Sata will lie in state at MICC until November 11 before being buried at Embassy Park.
Body viewing for members of the public commences today at 09:00hours and will continue every day until November 09.
The body will not be taken around the provincial centres of  the country with President Sata's son, Mulenga Sata, saying that his father would have loved as simple a funeral as possible without putting strain on the country's finances.
Zambia Daily Mail