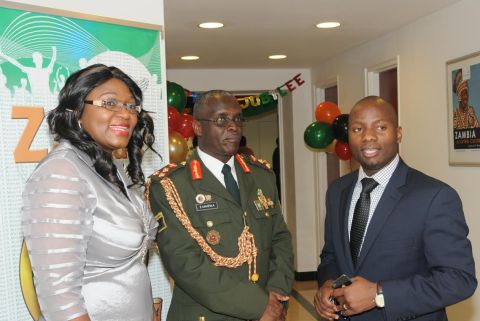 NEW YORK, Monday, October 27, 2014 – Zambia will continue to play an active role in international affairs for the betterment of humanity, says the country's UN Ambassador.
Speaking at the celebratory reception hosted for Ambassadors and diplomats accredited to the United Nations and other VIPs in honour of Zambia's 50th Independence anniversary at the Permanent Mission in New York on Friday, Her Excellency Dr Mwaba Kasese-Bota said Zambia remains committed to participate in multilateral affairs.
"Your presence here speaks to Zambia's good neighbourliness both in the Southern African community and the international community at large. I thank you for the messages of goodwill and solidarity from your Governments, which further reaffirm that Zambia is a good member of the international community with a wide circle of friends," Dr Kasese-Bota told several Ambassadors that attended the reception.
"Zambia looks forward to continued warm relations at bilateral and multilateral levels and to continued partnerships for prosperity."
As Zambia celebrates its golden jubilee, the Ambassador said this year also marks the country's 50th anniversary of its membership to the United Nations.
"Since joining the United Nations community on 1st December 1964, Zambia has been and continues to be committed to the promotion and adherence to the ideals and principles of the United Nations charter," Dr Kasese-Bota said.
The Ambassador paid glowing tribute to Zambia's First President Dr Kenneth Kaunda and his fellow freedom fighters for helping the country to gain independence.
She said freedom fighters were driven by patriotism, loyalty and love to risk their lives and those of their families to liberate Zambia.
"These gallant men and women, in their wisdom, were not satisfied with Zambia's independence alone, they went further to join hands with their brothers and sisters in southern Africa, and indeed the whole continent of Africa to fight colonialism," said Dr Kasese-Bota, amidst applause from other Ambassadors and other guests.
The Ambassador said Zambia's main unique attributes have been its unparalleled political and social stability since independence in 1964.
She said Zambia has an unbroken and impeccable period of political stability and peaceful co-existence due to the practice of its national motto of "One Zambia One Nation".
"This political stability and social harmony has been the platform upon which our economic growth and macroeconomic stability has been anchored. Zambians have exhibited their commitment to upholding democracy through good governance, and the rule of law, transparency, accountability and upholding human rights," said Dr Kasese-Bota. "Zambian people are determined to increase opportunities for economic activity and investment in order to reduce poverty."
Dr Kasese-Bota said the Zambian Government continues to open the country to science, technology and management systems, new ideas and skills from all over the world to create a better life for all, particularly the poor and marginalized.
The Ambassadors and diplomats congratulated Zambia on its Golden Jubilee.
Zambian gospel songbird, Suwilanji and her band, who performed live music at the event, mesmerized the UN diplomatic community with her smoothing voice and well-choreographed dance.
Some guests commended the Zambian Mission for showcasing the talent of Zambian artists to the global community.
Issued by:
CHIBAULA D. SILWAMBA (Mr.)
First Secretary for Press and Public Relations
Permanent Mission of the Republic of Zambia to the United Nations