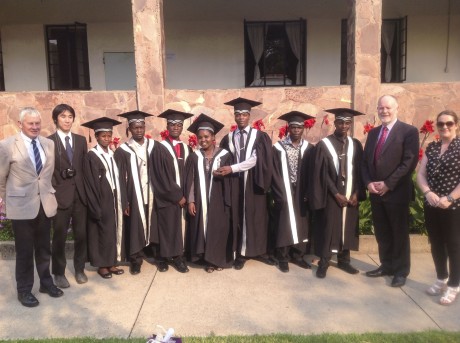 THE Secretary of Direct Aid For Africa (DAFA) has described the graduation ceremony of seven Zambian nationals, who were taught on-line from the South West College in Omagh, as "amazing." Liam McGrath has travelled to Africa to attend the ceremony last week. The award winning initiative, sponsored by DAFA, has enabled indigenous people in Zambia to access education through the direction of tutors at the Omagh college. The students were "thrilled" to receive Level 3 Diplomas in Information Technology.
Picture – (L-R) Liam McGrath, DAFA (Direct Aid for Africa), Mr Natsumi (staff member at Fatima High School). Graduates: Phales Mizinga, Francis Mutale, Philip Mushinge, Pauline Kabuswe, Patrick Chingaipe, Zachariah Manda and Obedient Kacheche and from South-West College Michael McAlister (deputy director) and Ciara Duffy (Virtual Services manager)
Zambia is one of the world's poorest nations with a huge unemployment rate of 80 per cent. Mr McGrath said, "The students were so aware of the lecturers in Omagh and were able to talk about their personalities. It also struck me that the second year students help the new first year students. You could see knowledge being imparted, which was the mushroom effect we like to see in education." Michael McAlister is deputy director at the South West College. He explained, "Two years ago we engaged with Direct Aid for Africa. We had been developing technology for on-line distance learning and we thought the two would marry well together. We recruited teachers to get involved and went out on an initial visit and picked a school for the pilot. We have been delivering for 12 months and last week had our first graduation of students achieving their Level 3 diploma in IT.
The students are aged 17 through to 23. "This is the pilot but with the Minister of Education in Zambia coming on board we hope to expand it to very significant numbers." Ciara Duffy, who is Virtual Services manager of the project, said the students had been out of education for a number of years with no opportunities or chance of finding a job. She added, "Education is the main vehicle for trying to get the students into employment. They hope to progress onto a foundation degree with the University of Ulster. They really want to learn and there is no problem with attendance or attention. It has potential to be rolled out across all curriculum areas at all levels." The programme has attracted international recognition and has received three awards to date for innovation in teaching and learning. Students participate every day through audio and video on-line and off-line learning.
They also study at home in the evenings and weekends despite many having the barrier of no electricity. Tutor Michael Gillen hailed the dedication of the students. "They want to get as much work as they can and as much feedback as they can," he said. "They ask things like how to set up sites … they are very keen to get into industry and make a real go of it." 'We recruited teachers to get involved and went out on an initial visit and picked a school for the pilot. We have been delivering for 12 months and last week had our first graduation of students'
– See more at: http://ulsterherald.com/2014/10/10/first-graduates-of-award-winning-education-project/#sthash.6tv7G0Zd.dpuf