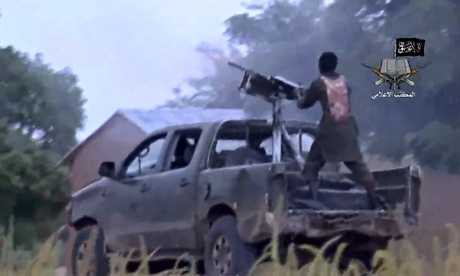 Hundreds of people are fleeing Nigeria's north-east state capital of Maiduguri as Islamic extremists close in, residents said on Friday.
One resident said soldiers have been evacuating their own families from Maiduguri since Tuesday, the day after the insurgents attacked Bama, the second largest city in Borno state. Fleeing Bama residents said the attackers warned that their next target was Maiduguri.
Bodies littered the streets of Bama, where air force jets on Wednesday blew up the barracks armoury to prevent the rebels from getting the weaponry, said Hussain Monguno, a leader of the civic Borno-Yobe People's Forum.
Boko Haram has been seizing towns and now controls a large swath of the extreme north-east of Africa's most populous country to form an Islamic caliphate, mimicking Islamic State. It has also begun attacking villages in neighbouring Cameroon.
Nigeria's military appears incapable of responding to the aggressive land grab by the insurgents, who kidnapped more than 200 schoolgirls in April.
Monguno said vigilantes who fled Bama told him that the city of about 200,000 people has been overrun by Boko Haram and that the fighters were killing any men who ventured out. The insurgents were largely sparing women and children but killing any men they found and kidnapping some teenage boys, he said. Monguno said the military insisted its troops were holding Bama, but that senator Ahmed Zanna had challenged soldiers to take journalists into the city to prove that claim.
A civilian close to the military said the soldiers were in Konduga, a town 20 miles (30km) from Bama, but were refusing to advance to engage militants in the city. He spoke on condition of anonymity for fear of retribution from the army.
The vigilantes also reported that the extremists took the towns of Bara and Banki on Tuesday, south-west of Maiduguri in neighbouring Yobe state.
Boko Haram fighters have attacked the main military barracks and an air force base in Maiduguri in the past, and sent suicide bombers who killed scores of people.
More than 100 Nigerian soldiers abandoned the battle for Bama and fled across the border into Cameroon, a western worker there told the Associated Press on Thursday, requesting anonymity because of the sensitivity of the subject. Last week, nearly 500 soldiers fled another border town fight and crossed into Cameroon, according to Cameroonian officials who helped repatriate the troops.
The US assistant secretary for African affairs, Linda Thomas-Greenfield, said the United States was preparing to launch a major border security programme for Nigeria and its neighbours.
"We are very troubled by the apparent capture of Bama and the prospects for an attack on and in Maiduguri," she said on Thursday at a high-level meeting with Nigerian officials in Abuja, the capital.
Some 26,500 residents have fled Bama to Maiduguri this week, the Nigerian Emergency Management Agency said, joining nearly 12,000 who fled Gwoza when it was taken by Boko Haram two weeks ago. The UN refugee agency said nearly 650,000 Nigerians have been forced from their homes by the insurgency and are displaced inside the country, with tens of thousands more sheltering in neighbouring countries. Many refugees are not counted because they have been taken in by family and friends, and human rights and aid workers estimate more than 1.5 million people are affected.
Residents leaving Maiduguri on Friday described a confused situation with refugees from the fighting still coming into the city even as they and others were fleeing. Three residents spoke on condition of anonymity for fear their flight would anger officials.
The Lagos-based chairman of the Nigerian Human Rights Commission, Chidi Odinkalu, posted a tweet saying: "After 41 yrs in #Maiduguri, my brother will quit this weekend to escape insurgency; says motor (bus) parks are filled with fleeing residents."
Boko Haram has taken towns to the north, east and south-east of Maiduguri in recent …. READ MORE