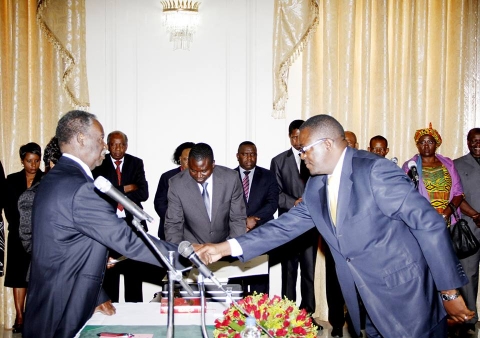 President Michael Sata has sworn in Mumba Malila and Roydah Kaoma as Supreme Court judges.
Mr Justice Malila, was until his recent appointment to the Supreme Court, Zambia's Attorney General, while Ms Justice Kaoma was Kitwe High Court Judge-in-charge.

The swearing in completes the process following the duo's appointment to the Supreme Court by the President and their ratification by Parliament in June this year.
The President congratulated the duo and urged them to serve the Zambian people diligently.
The ceremony, at State House, was witnessed by Vice-President Dr Guy Scott, Acting Chief Justice Lombe Chibesakunda, and a number of Cabinet Ministers, who included Finance Minister Alexander Chikwanda, Information and Broadcasting Services Minister Joseph Katema, Justice Minister Edgar Lungu and Foreign Affairs Minister Harry Kalaba.
Others were Secretary to the Cabinet Roland Msiska, his Deputy, Peter Kasanda and Permanent Secretary in charge of administration at Cabinet Office Margaret Miyoba. – ZANIS