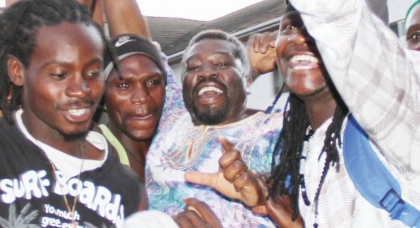 OPENING COMMENTS: MMD is healthy and stable.
Q: How relevant is the Die-Hard Youth Wing led by Bowman Lusambo (BL)?
A: Every party has "outside structures". Muhabi Lungu (ML) has talked to BL to bring his group into the main party structures.
Q: What is going on between MMD and UPND? BL has made a comment already.
A: This whole "fight" was started by the UPND president when he said people who are in MMD are "insane". MMD shall begin defending itself from attacks by the UPND. MMD has refrained from attacking UPND so far. MMD and UPND can only work together if there is mutual respect.
Q: Is MMD providing adequate checks and balances to the PF?
A: Yes we are. People can see the difference between MMD and PF. MMD's record was far better than PF currently. No more experiments.
Q: What is the MMD position on increased emoluments for MPs?
A: Bad timing by MPs. It is wrong to portray this as if it is an MMD initiative. This is an attempt to vilify the MMD. The PF has increased salaries for the president and Ministers 3 times. PF is recklessly borrowing and overspending. The MMD cannot sanction its MPs for demanding higher emoluments. They are adults.
Q: Are MPs fulfilling their objectives?
A: I cannot judge. Zambians will judge. Two-thirds of MPs are kicked out in the following elections. MMD is working with its MPs to be more effective in parliament.
Q: Which By-Elections is MMD contesting (Parliamentary and Local Govt)?
A: We are contesting 21 out of 25 Wards and in Mangango Constituency for parliament. UPND poached one of our Ward candidates. Hence mistrust between us and them.
Q: Is MMD winning Mangango?
A: I do not believe in making such big definitive pronouncements. We are prepared and will do well.
Q: Are alliances with other parties being ruled out?
A: Very difficult. UPND often works against us. We are already in an alliance with 4 parties.
Q: Should MMD get rid of Catherine Namugala?
A: Issue is still in court. We have clear disciplinary rules that will be followed. We can work with other parties.
Q: Why can't MMD support UPND?
A: We cannot support parties that do not periodically elect their president. Their manifesto on the economy in unclear.
Q: Is the fight for the new constitution dead?
A: It is far from dead. It is insanity not to know the contents of the document up to now.
FINAL COMMENT: People who say MMD won't come back will be surprised. MMD has the best people. MMD members should not be discouraged.
END OF INTERVIEW