Today around 15:00 hours, a truck carrying flat stones overturned on Leopards Hill Road, just outside Bauleni. Lusaka Voice reporters arrived at the scene 15 minutes after the accident.  The overturned truck lay on it's side with it's cargo spilt across the side of the road. A large crowd had gathered from the near-by homes to see what had happened.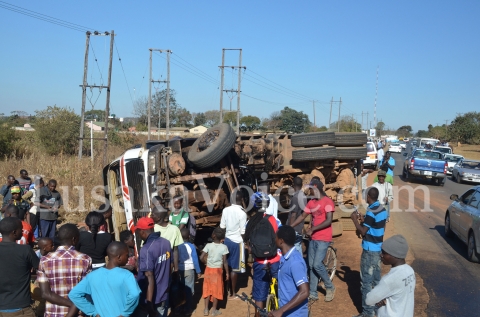 Less than 30 minutes after the accident, two members of the Woodlands Police arrived on the scene. According to the truck driver, he had been driving on Leopards Hill Road, towards Crossroads, when a minibus parked on the wrong side of the road decided to make a U-turn. Attempting to avoid a fatal accident, the truck driver swerved to the opposite side of the road, but in the process ended up flipping over his truck.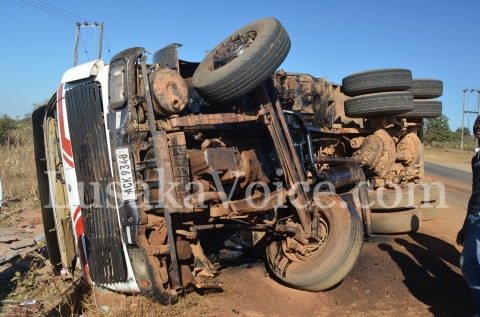 Passengers of the minibus that caused the truck to overturn reported that the driver of the minibus quickly dropped his passengers off and sped away from the scene. None of the passengers from the Minibus were hurt, but the truck driver did suffer some injuries on his right arm, but nobody was in a life-threatening condition. A Fire truck did arrive in response to the accident, but there was no immediate need for them to act.