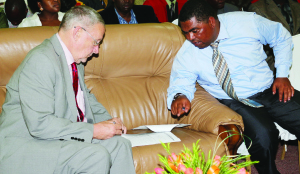 CENTRAL Province Minister Obvious Mwaliteta has expressed sadness over the continued ranking of the province as leading in drug trafficking cases in Zambia.
Mr Mwaliteta, however, attributed  the  continued increase in cases of drug trafficking recorded by the Drug Enforcement Commission (DEC) as a result of its central location.
Mr Mwaliteta said in an interview yesterday that it was saddening that the province had continued to be ranked the highest in drug related activities and asked members of the public to desist from engaging themselves in such acts.
"The statistics that Central Province has continued to top the list of provinces in the country when it comes to drug trafficking is worrying and should be reversed," he said.
Mr Mwaliteta further called for continued sensitisation by DEC among the members of the public in order to mitigate the situation.
He urged Zambians to consider venturing in the cultivation of other cash crops instead of cannabis and other drugs to avoid finding themselves on the other side of the law.
Recently, DEC Commissioner, Alita Mbahwe said out of  43.7 tonnes of cannabis seized countrywide last year, Central Province had the highest with 10.9 tonnes representing a 25  per cent of the total seizure.
Ms Mbahwe said the officers in the province seized 300 kilogrammes of miraa which originated from the East Africa through Nakonde Border Post.
More than 400 suspects were arrested in Central Province for drug related offences representing eight per cent of the total number arrested countrywide.
Times of Zambia