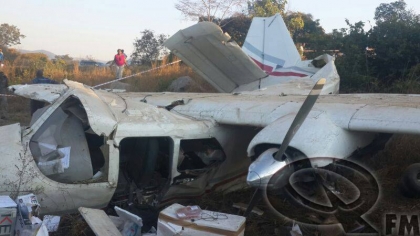 PRELIMINARY investigations have revealed that engine failure caused the Britten-Norman BN-2 Islander twin engine aircraft to crash-land between Chikankata and Chirundu districts on Sunday.
The BN-2 Islander is a 1960s British light utility aircraft, regional airliner and cargo aircraft designed and originally manufactured by Britten-Norman of the United Kingdom.
Police deputy spokesperson Rae Hamoonga said the plane, registration number 9Q-CYA, was destined for Lubumbashi in the Democratic Republic of Congo from South Africa.
He said the accident occurred around 16:00 hours and that two Congolese nationals were on board.
The pilot has been identified as Cyprian Bamata and his passenger was Peter Blandy.
Mr Hamoonga said Mr Bamata and Mr Blandy were rushed to the University Teaching Hospital around 17:00 hours, where they were treated and discharged.
He said police secured the scene of the accident and the belongings of the two victims.
"Some police officers rushed to the area and in fact, some officers were stationed at the scene of the accident the entire night of Sunday to secure the belongings of the two victims," Mr Hamoonga said.
He said Mr Bamata is at Chirundu Police Station to assist with investigations while Mr Blandy is lodged in Lusaka.
And police have instituted investigations into a sex video circulating on social media allegedly involving Zambian musician Bobby East.
Mr Hamoonga said once police establish people involved in the video, arrests will be effected.
Zambia Daily Mail