Zambians Promoting Leadership in America (ZLA) is a recently formed organization based in Atlanta GA. ZLA founder, Freda Mwamba Brazle, said the organization's objective is centered around demonstrating leadership, taking responsibility and collaboration. Born in Chinsali, Northern Province, Mwamba Brazle is a graduate of the Leadership Atlanta class of 2006 and possesses a Bachelors in Management Information Systems and Master of Science in Accounting from Pace University, New York City. She is a Certified Public Accountant (CPA) and Master Black Belt in Lean Six Sigma. Her impressive education background is coupled with over 20 years experience in the corporate world which includes employment with The Coca-Cola Company, General Electric, Arthur Andersen Consulting, Bank of America and WellPoint where she has held various executive roles.
When asked why she decided to host Zambia Golden Jubilee event and how it relates to ZLA, Freda said, "I am one of many Zambian born professionals who have made significant strides in the United States.  Zambia's 50th year anniversary is the perfect time to take stock of how far Zambia has come and how Zambians in the Diaspora have developed. Zambia's 50th birth year is the perfect time to launch "Zambians Promoting Leadership in America."
Freda Mwamba Brazle decided that she was going to apply what she had learned about community and transformational leadership to plan a memorable event for Zambia's Golden Jubilee in Atlanta. Understanding that success is best achieved with like-minded people, she pulsed several contacts, both Zambian and non-Zambian to interest them in joining her in making a statement about her country of origin. The response was overwhelming and the idea was given life.
SPEAKER LINE-UP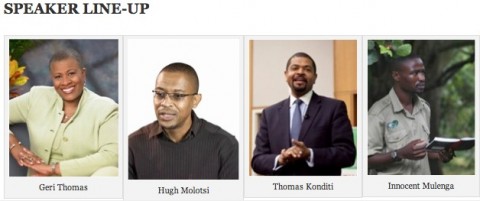 The members of the planning committee are made up of Zambian professionals from diverse backgrounds and experience. "There are so many skilled and talented Zambians in the US. I feel privileged to work with such an impressive team of leaders in their own right. Take a look at their profiles on our website," she exclaimed.
The jubilee celebrations will take place on Saturday, October 25th, 2014 at  the Atlanta Airport Marriott Gateway Hotel. An impressive list of speakers include Geri Thomas President of Georgia Operations and Global Diversity & Inclusion Executive at Bank of America Corporation. Nairobi-based Thomas Konditi the Chief Financial Officer for GE Africa.  Hugh Molotsi Vice President of Technology Innovation at Intuit. Zambia-based Innocent Mulenga Zambian Primatologist at Chimfunshi Wildlife Orphanage. Chimfunshi Wildlife Orphange in Zambia has provided care and protection to about 200 Chimpanzees since it opened.
Entertainment will be provided by 3D the Boss, Ollie Patterson, the Soweto Street Dancers and Damien Musuka.
"The Golden Jubilee event is our way of giving back to our country of origin by sharing the untold story and showcasing Zambia to the American audience. We are a proud, humble and friendly nation and home to The Victoria Falls, one of the seven natural wonders of the world." Freda added.
Tickets can be purchased online at www.ZambiaJubileeAtlanta.com
For additional information please email [email protected]