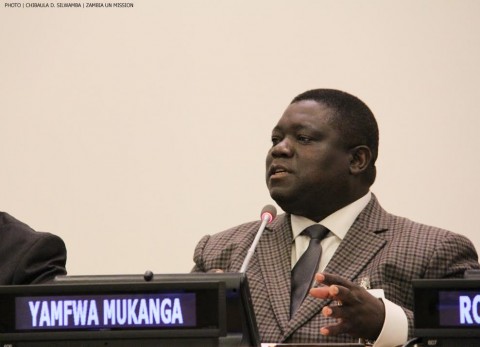 New York, Friday, June 20, 2014 – Transport, Works, Supply and Communications Minister Yamfwa Mukanga held private talks with United Nations Development Programme (UNDP) administrator Helen Clark and World Bank special representative to the UN Dominique Bichara on issues of interest to Zambia and LLDC.
The minister also asked UNDP and the World Bank to support infrastructure development in LLDCs to enhance trade and transit of goods.
Mr Mukanga met Ms Clark and Ms Bichara in New York on the sidelines of the recently held first session of the Intergovernmental Preparatory Committee for the second United Nations Conference on Landlocked Developing Countries (LLDCs).
In a meeting with Ms Clark, the minister commended UNDP for its support to Zambia in areas of democratic and economic governance, environment, gender and HIV/AIDS.
Mr Mukanga and Ms Clark also discussed the UNDP's support to the 32-Member Landlocked Developing Countries (LLDCs) Group, which Zambia is chairing.
Ms Clark assured the Minister of the full commitment of UNDP to support the LLDCs' conference and emphasized the importance of trade to development.
The UNDP chief said there was need to turn LLDCs into hubs of development and link especially in Information Communication and Technology (ICTs), transport and trade development at regional and sub-regional level.
In a separate meeting with Ms Bichara, the minister and the World Bank official discussed, among other things, the need for the bank to continue its support to LLDCs.
Mr Mukanga invited the World Bank to participate and support the LLDCs conference scheduled for Vienna, early November this year.
Issued by:
CHIBAULA D. SILWAMBA (Mr.)
First Secretary for Press and Public Relations
Permanent Mission of the Republic of Zambia to the United Nations