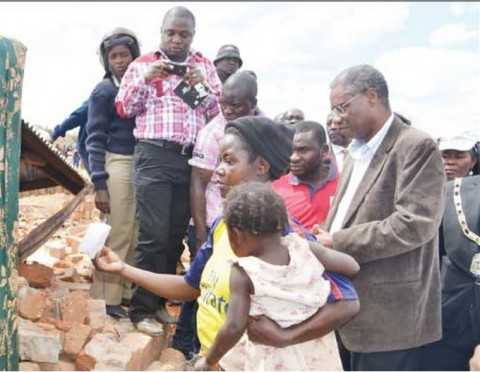 THE Disaster Management and Mitigation Unit (DMMU) has acted on the plight of people whose houses were demolished by Kitwe City Council (KCC) about two weeks ago in Mindolo North Township.
Though it does not support illegality, the DMMU has made the move to fulfil its responsibility of providing humanitarian assistance to the needy.
To this effect, the DMMU will by tomorrow morning set up a transitory camp where the affected people will receive shelter, food and other requirements.
"Though DMMU does not support illegality, it has the responsibility of providing humanitarian assistance. In the spirit of humanitarian assistance, DMMU is setting up a transitory camp where those who need shelter and food will be assisted.
"The camp won't be at the site where the houses were demolished because putting it there will be like supporting illegality, so we will provide humanitarian assistance at a transitory camp away from that land. We have already identified the land where we will put up the camp," DMMU national coordinator Patrick Kangwa told the Sunday Mail yesterday.
Mr Kangwa said DMMU's project implementation partners will be on site by Monday morning.
He said an assessment has already been done regarding the number of people that need assistance.
"Only those identified in the assessment will be given assistance," he said.
Mr Kangwa said the DMMU will in due course state the quantities of the requirements to be given to the victims of the demolition exercise that saw about 600 houses razed.
Meanwhile, MWILA NTAMBI reports that Kitwe Mayor Kelvin Sinyangwe has condemned political parties that have allegedly been trying to gain political mileage from the humanitarian crisis at the disputed land, which belongs to a private investor, KCC, and Mopani Copper Mines.
"I totally condemn the way some political parties are trying to gain political mileage out of the situation in Mindolo North. Giving out food is one thing but if it is intended to gain political mileage, then that is very bad," Mr Sinyangwe told journalists at his office.
He maintained that the council would not recognise illegal allocation of plots in Mindolo North.
He said part of the area where people allocated themselves plots is a dangerous mining area where people can settle.
"We don't want to be blamed 10 or 20 years down the line. We want to be a clean council," he said.
Mr Sinyangwe said at the moment, the local authority has stopped demolishing illegal structures and has instead resorted to sensitising people on the need to leave the area.
He said no-one will be allowed to start any construction works in the area in question.
And Mr Sinyangwe says KCC has endorsed the candidature of Lusaka Mayor Mulenga Sata for the position of Local Government Association of Zambia president.
Mr Sinyangwe said Kitwe councillors will back Mr Sata because he is hard working.
ZAMBIA DAILY MAIL