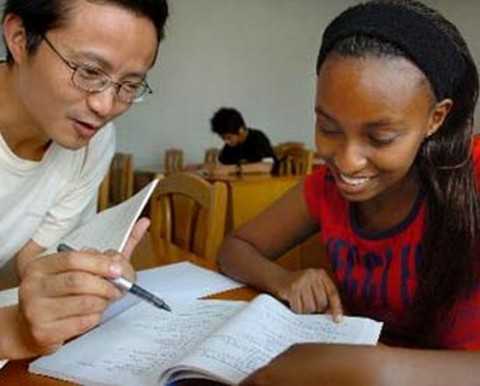 A Senior Chinese educationist has called on African prospective students to utilize the various places in most Chinese universities.
Mr. Cen Jianjun, the  Department of International Cooperation and Exchanges in the Ministry of Education Director General, says prospective students from Africa should be apply directly  to any Chinese universities most of which offer Chinese government scholarships.  
ZANIS staffer Mubaina Simasiku reports from Beijing China that the Chinese senior educationist said this when he briefed African journalists who attended his briefing at his ministry's boardroom in Beijing.
Mr Cei also said potential African scholars should apply through local government institutions in China, which he said were most friendly to African students.
He said through the local government institutions, African students stand a chance of securing scholarships as this was the area which has a lot of educational facilities and places.
The Director General also noted that African students were fast learners of the Chinese language than European and American students.
Mr Cei also said Zambia is among many African countries that have benefited from the warm relations between China and Africa in the field of education and human resource development.
He outlined that since the introduction of China-Zambia education exchanges and the establishment of Sino-Zambia diplomatic relations, educational exchanges between the two countries has relatively increased over the years.
"Successive development and increasingly diversified contents covering the aspects of student exchange, human resource training and collaboration at university level are among other achievements scored for some time now," said Mr Cei.
Mr Cei told the African scribes that last year, China had enrolled more than 35,000 African students and most of whom are on government scholarships.
On the part of Zambia, Mr Cei said China had last year (2013) alone enrolled 599 Zambian students on government sponsorship compared to only 10 students in 1978 on a similar arrangement while the total in 2013 goes beyond 1000 Zambian students in various institutions in China.
"By 2013, China has accepted altogether 599 Zambian students on scholarship, we accepted 10 such Zambian students in 1978. There were 1,020 Zambian students studying in China in the whole year of 2013," he said.
He said the Chinese ministry of education has been entrusting the international education aid bases to organise short-term training programmes in human resources with varied themes and topics annually.
He added that during the period 2009 to 2013, 22 Zambian experts and scholars have been to China to participate in such programmes.
Mr Cei further disclosed that China has established 38 Confucius institutions in 32 countries in Africa and Zambia has benefited in this arrangement as the country has a Confucius institute at the University of Zambia.
He further said other than the establishment of Confucius institutions; China has also come up with a cooperation programme called China-Africa Universities 20 plus 20 Cooperation.
The China-Africa Universities 20 plus 20 Cooperation programme is the twinning of selected African universities with the Chinese to set up curriculum and promote educational exchange.
In this regard, China's Southeast University has formed a cooperative partnership link with the University of Zambia and the two have since enhanced the cooperation especially in faculty exchange and joint research in the recent years.