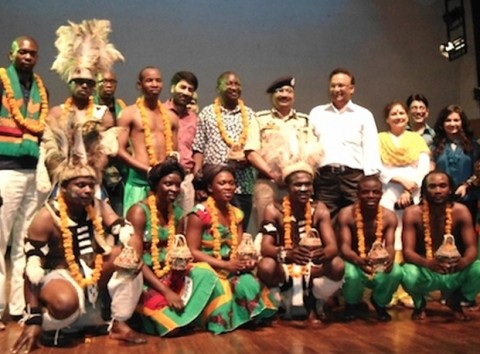 The Zambian Minister of Tourism and Arts, Hon Jean Kapata has met with Mr Jimmy Butt, the Seychelles Tourism Ambassador in Zambia to express her sincere appreciation for allowing a Zambian Chef to take center stage at the African Gala Differ for FetAfrik 2014 that will be taking place on Satiuday 24th May at the Berjaya Beau Vallon Bay Hotel & Casino. The Minister said during her discussions that there is no better way of expressing support of a countrys culture than through its food, as that is a symbol of the unique identity of its nation. Minister Kapata was being accompanied by he PS , Mr. Stephen Mwansa for the meeting with Mr Jimmy Butt.
Minister Jean Kapata of Zambia said that she was so appreciative that her country's renowned Chef was in Seychelles for the 2014 Africa Day celebrations that she felt compelled to offer support to her Zambian Ambassador of Food. As such, despite very short notice the Zambia Tourism Board requested for an impromtu visit to Seychelles by a member of the Zambia Tourism Board and a Livingstone based tour operator to provide branding support from Zambia during the Fetafrik in Seychelles.
Following his meeting with the Zambian Minister, Jimmy Butt, the Seychelles Tourism Ambassador in Zambia wrote to Minister Alain St.Ange, the Seychelles Minister responsible for Tourism and Culture and said:- I wish to thank your Ministry for the initiative to invite the Zambian chef to participate in this event and to assure you, that the gesture has been very well recieved here, by your counterpart. I also wish to thank Seychelles Tourism Board for all their tremendous efforts to find accommodate for our guests from Zambia, despite the challenges of dealing with the very short notice" Mr Jimmy Butt said.
ETurbo News