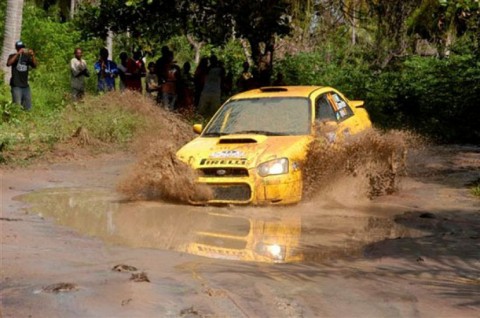 Start: Friday May 16th
Event Ends: Sunday May 18th
The 2014 Zambia International Rally; the third round of the FIA African Rally Championship gets underway this Friday at afternoon with a Super Special Stage at Lusaka Motor club before moving to Chisamba on Saturday, which is about 50kms North of Lusaka.
The leg then ends back at Rally Hotel HQ in Lusaka where cars will stay overnight. The second leg is again in Chisamba. The event finishes back in Lusaka at the Hotel Intercontinental on Sunday.
Ahead of the highly anticipated event that has attracted 21 drivers five of which are in the running for the 2014 Africa Rally Championship crown, Rwanda's Giancarlo Davite aims at keeping pressure on Cote d'Ivoire's Gary Chaynes, who leads the ARC standings with 43 points after two rounds.
"Winning the weekend rally will help boost our chances of claiming the African Rally Championship. All the Zambia drivers are present and it will be a good and pleasant race," Sylvia Vindevogel – Davite's navigator told the Times of Rwanda.
"We finished racing on Tuesday; Rally routes are good, fast and technically smooth. We are ready to represent Rwanda as we seek to win this year's title," added Vindevogel.
Rwanda national rally champion Davite Giancarlo is ranked fourth with 15 points after failing to finish the Sasol Rally in South Africa early this month. The event has attracted two African champions in Mohammed Essa and Jassy Singh who is the current continental champion.
Zambians Mohammed Essa and Kenneth Mukosa, who are competing in the ARC, are tipped to make most of the home advantage to earn more points since they would be racing on routes they are familiar with.
Twenty one drivers are registered for the event of which five are competing for the ARC title this year. Zambians Essa Mohammed and Kenneth Mukosa, Rwanda's Giancarlo Davite, Kenya's Jaspreet Chatthe and reigning ARC leader Gary Chaynes from Ivory Coast are the five ARC competitors on the list.
Chaynes is currently leading the Africa Rally Championship table on 43 points; Zambia's Mohammed Essa is second with 25 points while Giancarlo and Jaspreet are third with 15 points each.
The Rally will run in the Farms of Chisamba, North of Lusaka. The course will cover a total distance of approximately 472kms of which 238kms is made up of Competitive sections. Weather conditions are expected to be dry but cool.