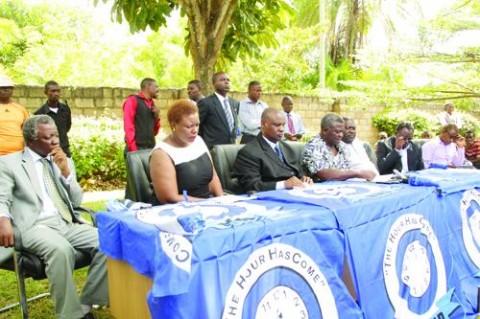 MMD National Secretary Muhabi Lungu
MMD National Secretary Muhabi Lungu says the fate of the five senior party officials served with exculpatory letters for bringing the name of the party into disrepute will now be decided by the party's National Executive Committee (NEC).
The five are Spokesperson Dora Siliya, vice presidents Michael Kaingu and Brian Chituwo, national chairperson for Tourism Lucky Mulusa and National Youth Secretary Tobias Kafumukache.
Mr Lungu has told a media briefing that following their failure to exculpate themselves within the stipulated ten days, he has the powers to take disciplinary action against the five, but that he has opted to prepare a report which he will submit to the party's NEC for its consideration and further action.
Mr. Lungu says the NEC meeting will be convened soon to deal with the matter expeditiously.
And Mr. Lungu has announced new procedures for holding media briefings at the party secretariat and general communication by the party's officials.
He says the new procedures unanimously agreed upon by all concerned parties, stipulate that no senior member of the party above the rank of National Secretary will hold media briefing at the secretariat without prior permission from party president Nevers Mumba.
Mr.Lungu says other party members will have to seek permission from the National Secretary for them hold media briefings.
He notes that new procedures are meant to ensure there is greater coordination between senior party office holders and a means to avoid unnecessary misunderstandings and speculations.
Meanwhile Mr. Lungu has disclosed that the party will carry out a countrywide membership audit to reconcile its membership register at the secretariat after which party president Dr.Nevers Mumba will embark on a countrywide tour to assist and make the process of re-launching the party relevant.
QFM