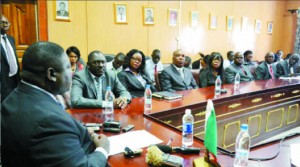 By CATHERINE NYIRENDA-
TRANSPORT, Works, Supply and Communications Minister, Yamfwa Mukanga has unveiled a new nine-member Zambia Railways Limited (ZRL) board of directors to be chaired by business consultant Davies Chama.
Other board members are Transport, Works, Supply and Communications Permanent Secretary, Charles Sipanje, Permanent Secretary at the Ministry of Finance, Pamela Kabamba, University of Zambia (UNZA) vice chancellor Professor Stephen Simukanga.
The rest are consultant Violet Kabwe, business executive Mark Mushili, Attorney General Mumba Malila, Engineer Famous Kabwe and consultant Monde Limbali.
Mr Mukanga unveiled the nine member board at the ministry in Lusaka yesterday following Cabinet approval of the board which would serve for three years.
He urged the new board of directors to ensure that management improves operations of the railway company.
Mr Mukanga said since Government took over the ZRL from Railway Systems of Zambia (RSZ), there had been remarkable improvement in the overall performance of the company.
"With your appointment, we expect the company to perform even better than it is doing now because you will provide leadership to management.
"Let me remind you that you are the supervisors of the management team of Zambia Railways Limited and it is your responsibility to ensure that they improve service delivery," he said.
He said Government was interested in the effective operation of the railway system in Zambia as it would reduce pressure on roads being constructed in the country under various programmes such as the Link Zambia 8000.
"As Government we are looking forward to improve that facility because we are executing a massive project in line with road infrastructure development and even if these projects are executed properly and efficiently their sustainability depends on the railway network," he said.
He said if the railway network was not handled properly, the maintenance of the road network in Zambia would continue to be high.
He advised the board of directors to ensure that management adhered to good corporate governance and to the expectations of the people of Zambia.
In April last year, Government dissolved the ZRL board following differences which erupted between the management team and the board on allegations of gross mismanagement. The previous Board was chaired by Mark Chona.
Meanwhile, Mr Mukanga says a lot of progress has been made towards the creation of a national airline.
According to ZNBC main news monitored last night, the minister said his ministry had come up with a Cabinet memo, which is yet to be discussed by Cabinet before the airline takes to the skies.
He said Government received overwhelming response from stakeholders who want to partner with it in forming the airline and Cabinet would have to give guidelines on the way forward.
 Times of Zambia