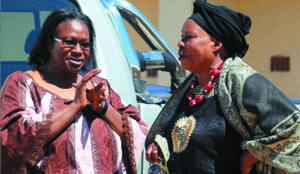 GOVERNMENT says it will continue supporting chiefs in the administration of their chiefdoms.
Luapula Province Permanent Secretary Chanda Kasolo said Government attached importance to chiefs in its development agenda, adding that when chiefdoms were well-administered, Government found it easy to implement development projects.
The permanent secretary observed that there was need to develop all the areas in the province to ensure that most of the problems that chiefs faced in governing their people were addressed.
The permanent secretary said this in Samfya when he addressed five Chiefs from Samfya District at a meeting to find a lasting solution to the problems between Chieftainess Mulongwe of Mbabala Island and her subjects.
Mr Kasolo assured the chiefs in Samfya that the province would work with chiefs in the area in ensuring that the problems arising from deaths by crocodile attacks in Chieftainess Mulongwe's chiefdom were addressed.
He said the provincial administration would work closely with chiefs, as they attempted to find a lasting solution to the problem in Mbabala Island because chiefs understood the issues better.
Meanwhile, Luapula Province Deputy Permanent secretary Joyce Nsamba has assured the chiefs that the provincial administration is in the process of visiting all the chiefs in the province.
Mrs Nsamba said the provincial administration had already visited some of the chiefs and indicated that the visit to chiefs would be to understand the challenges that chiefs were faced with and how best to develop their areas.
The meeting was attended by Senior Chief Mwewa, Chiefs Mwansakombe, Chitembo, Kasoma Bangweulu and Chieftness Mulogwe.
About five people died from crocodile attacks last month in Chieftness Mulogwe's area on Mbabala Island in what the local people suspected to be black magic.
The riots resulted in riots, which saw the chieftainess' brother being killed and the traditional ruler fleeing from her palace.-ZANIS.