[DISCLAIMER: All opinions expressed in this article are entirely mine and do not reflect the opinions or position of Lusaka Voice or any of its affiliates. I am not a member of, nor do I represent any political party.] – MICHAEL CHISHALA
[Continued from Part One]
President Michael Sata's Patriotic Front (PF) government is increasingly becoming deeply unpopular for various reasons I cannot fully delve into, suffice to say that escalating commodity prices, broken promises, perceived tribalism, worsening governance record, poor economic decisions and alleged corruption are among the main ones. Zambians have had almost two and a half years to reflect on their decision to throw out Rupiah Banda unceremoniously, albeit with a slender margin of 6% in favour of Sata. In 2011, voter turnout was only 54%, the lowest ever in a normal election cycle (the 2008 contest recorded 45% which was normal for a By-Election). Compare with 68% in 2001 and 71% in 2006. Even Frederick Chiluba's second election in 1996 produced a 58% turnout.
What this means is that Sata's 2011 "soft" win is precarious, to say the least. It can be overturned more easily than most people realize. Zambians are getting regularly disappointed with the failure of the PF government to deliver and they are likely to give Sata and PF the boot in 2016 because they had high expectations (I still recall the spontaneous celebrations in the streets of Lusaka after the results were announced). Every week without fail, I see people upset and complaining about the PF, including once staunch supporters who are now thinking that the devil they knew for many years may have been better than this angel they are just getting to realize is not so angelic after all.
The levels of disappointment are greater than anything I have seen since former president Chiluba's reign when the national coffers were extensively pilfered. It is worth noting that Mr Sata was at the center of corruption accusations during Chiluba's time when he was a minister and National Secretary of the MMD. The late president Levy Mwanawasa went on record to say that he resigned as Chiluba's Vice-President partly due to Sata's alleged corruption. Zambians have a low tolerance for corruption in presidents which is why to this day, most people remember Chiluba more for sticking his fingers in the national kitty than for all the good economic decisions he made. In 2001, 71% voted against the ruling party in the presidential election. I see ominous signs of history repeating itself.
What is the likelihood of United Party for National Development (UPND) President Hakainde Hichilema winning the 2016 presidential elections? The statistical results of the four previous elections suggest a huge uphill battle for him, despite the confident chatter of his supporters saying "Haleisa Haleisa" (a play on his name and initials and the Bemba word "Aleisa", that means "He is coming"). The equally creative chants by opposing camps say "Hakaivotela Heka" (derived from "Akaivotela eka" meaning "He will vote for himself alone").
Despite the strong financial advantage Hichilema has over the other opposition parties, big question marks surround the viability of his 2016 election bid. Firstly, UPND votes have declined in three consecutive elections (2006, 2008, 2011) after Mazoka's 2001 run. Hichilema has lost 7 percentage points in his 3 elections and 9% from Mazoka's 2001 peak. As a consequence of the 2006 consolidation of votes around the "Big Three", there is great difficulty in making dramatic gains in the absence of earth-shattering events. If Hichilema is to win, he has to swing the vote TWENTY TWO percentage points in his favour from the 18% he got in the last election to get to the magical winning number of 40%, as explained in Part One. This means that PF and MMD have to drop about 11 percentage points each or some other combination that adds up to 22%. Is this likely, considering the massive financial war-chest PF has? What if MMD have regrouped by 2016?
Another challenge with the candidacy of Hichilema is that he has been in alliances and pacts three times and they all either came to nothing or collapsed. His 2006 "United Democratic Alliance" (UDA) with UNIP and FDD only managed to give him 25% of the vote. His decline to 20% in 2008 and then 18% in 2011 suggests that the alliance is what propped up his numbers. For example, 2006 was the year UPND managed to get parliamentary seats in Eastern Province (four) and this appears to have been due to the campaigning of UNIP and FDD, whose party presidents (Tilyenji Kaunda and Christon Tembo) were both from the East. UPND has not won a seat in Eastern Province before or since then.
His pact with the PF prior to the 2011 elections collapsed amid accusations and counter-accusations. His alliance with the MMD soon after they were kicked out of government lasted less than a year. A lot of voters may begin to view these events with suspicion and begin thinking that there is something seriously wrong with Hichilema. They may not know exactly what it is but sometimes the appearance of something negative that you do not understand is more powerful than something you can see. Indeed speculation has been rife that he insists on being at the top of any presidential ticket even though his party is less influential.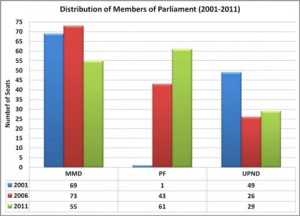 The biggest indictment of Hichilema's candidacy however is simply that he is not a factor in four key provinces. Luapula, Northern, Eastern and Copperbelt. He has not even managed 5% in these provinces after 3 election cycles. In 2011, UPND won zero Parliamentary seats in these four provinces as well as Lusaka. Currently, there are no MPs in these five provinces except one in the Copperbelt. Copperbelt, Lusaka, Northern and Eastern are the biggest four provinces in terms of registered voters adding up to 56%. To make things worse, Hichilema has not yet locked up North-Western and Western Provinces (he has been beaten by the MMD candidates). Although he is likely to win these two provinces which have been MMD strongholds, the victories may not be emphatic enough to make a significant difference in his favour. The two provinces have the lowest number of registered voters (Western 8%, North-Western 6%).
In 2001, UPND won 49 seats in Parliament. In 2006, MMD increased by 4 to 73, while UPND (working together with FDD and UNIP under the UDA) dropped by almost half to 26, with PF making a massive jump to 43 from 1 seat just 5 years earlier. In 2011, PF moved up their tally to 61. MMD dramatically lost a quarter of their MPs and dropped to 55, while UPND hardly moved, adding 3 seats to get to 29. The drop in popularity of the UPND on the Parliamentary front has been much more drastic than the presidential.
Their MPs reduced from their peak by 43% and this will be a big factor in the 2016 Elections because incumbent MPs have a strong influence on the presidential vote by campaigning for their party leader. The evidence suggests that you need not less than 50 MPs to get a decent chance of winning the presidential election, meaning that UPND needs to increase their parliamentarians by about 60% in 2016. Prima facie, the major fight shall be between Mumba's MMD and Sata's PF, barring significant new factors.
What about the viability of Nevers Mumba? His candidacy is a complex concoction of positive and negative factors which may play out in all sorts of ways. Aside from the fact that MMD lost to PF by only 6%, they have some major advantages over all other opposition parties.
1. Their party structures are everywhere, having been built for over 20 years and the perceived persecution of their leaders will likely cause the structures to strengthen. Both PF and UPND have not yet built theirs to rival MMD.
2. They presided over Zambia's transition from strong Socialism to a more liberated economy in which the private sector thrived and has produced tangible improvements in standards of living for the average Zambian. There is much nostalgia for the MMD in many circles. More people are realising that PF is not doing much that is new but merely continuing the MMD projects.
3. Their president Nevers Mumba is very charismatic and a great speaker.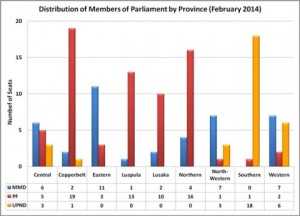 4. Mumba poses the biggest challenge to Sata's dominance in the North, partly because he is a "true" Bemba, unlike Sata who is Bisa. The ongoing antagonizing of the Bemba Royal Establishment by Sata plays into Mumba's hands (lots of low-lying fruit to pick here).
5. MMD cannot easily be accused of being a tribal party, something the UPND is being smeared with by the PF constantly.
6. MMD is a well-established party whose existence and future is not tied to its president, unlike almost all the other parties. For example, one cannot see a clear path to succession after Mr Sata leaves office.
However, MMD has some major disadvantages. Among the main ones are:
1. They no longer have access to state resources. Media reports have suggested they have struggled financially. Money is a big factor in elections. UPND has a huge advantage over MMD on this point as Hichilema is very wealthy and well-connected.
2. Mumba and other MMD leaders have been kept busy in court with case after case which takes away valuable planning, fundraising and campaigning time, not to mention depletion of financial resources due to high legal fees.
3. The nullification of MMD seats in parliament and the poaching of some of their MPs by the PF has weakened the party significantly. In 2011, MMD won 55 seats but have since then lost a total of fifteen seats (about 27%). The chart below shows the current composition of the National Assembly.
4. Coverage of the MMD in the media is currently very sporadic and their online presence is almost non-existent. These two factors have an important influence in Lusaka and Copperbelt Provinces which have the most registered voters who are more educated and economically better off. The MMD message has been muffled and this is working against them.
5. Mumba is yet to define himself with a short, sharp, clear message that can resonate with voters the way Sata did in 2011.
6. MMD is yet to shake off the image of a corrupt party that is perceived by many as dead and gone like UNIP.
As for the last point, I am not persuaded that most of the 36% of voters who supported MMD in 2011 will suddenly switch to another party, especially as the PF failures increasingly come into sharp focus. Comparisons with 1991 are misplaced because UNIP lost to MMD by a huge margin of 24% to 76% whereas MMD lost to PF by 36% to 42%. The nostalgia factor in favour of MMD cannot be under-estimated, especially as people begin to compare the respective records of MMD and PF when approaching 2016.
As for the rest of the 2016 potential candidates, both existing and yet to emerge, they will have to work extra, extra, extra hard to get anywhere close to Plot One. For one thing, they need lots of money to be able to travel and sell their message. For another, they have to build party structures everywhere which takes many years. They also need to have a superior message, compared to the three titans of Zambian politics.
[In Part Three, possible outcomes for the 2016 election results. Read Part One]
By  MICHAEL CHISHALA
REFERENCES
---