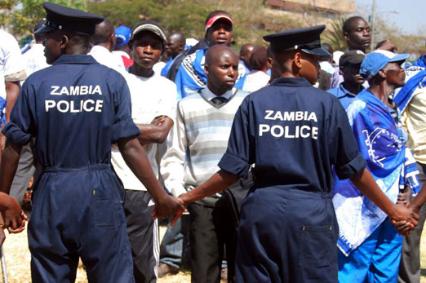 MMD Youth in Lusaka have petitioned the party's Provincial Executive Committee to immediately convene a meeting to discuss the current happenings in the party.
The Youths who had planned to hold peaceful demonstration from Kalingalinga Total filling station to the party secretariat before they were stopped by Police on grounds that their permit only allowed them to hold an indoor meeting, have described the party leadership as a failed and disconnected one.
The Youths later drove to the party secretariat where they presented a petition to Acting National Youth Secretary Tobias Kafumukache.
Presenting the Petition on behalf of the Youths from the seven constituencies in Lusaka, Acting District Chairperson Moses Kalonde said the party under the leadership of Dr. Nevers Mumba and is in the intensive care hence their demands for a new Leadership.
Kalonde says posterity will judge the party members harshly if they fail to salvage the former ruling party from extinction, more especially that the MMD is the Mother of democracy in Zambia.
And receiving the petition, Acting National Youth Secretary Tobias Kafumukache said the Youths are tired of the failed leadership of the party hence their demands for a convention.
And MMD Deputy National Secretary Chembe Nyangu assured the youths that he will process the petition in accordance with the party constitution.