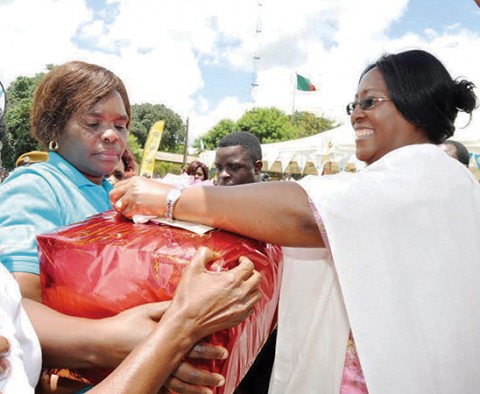 FIRST lady Christine Kaseba says women and girls are a special gift from God that must be nourished and cherished.
Dr Kaseba said Zambia could not have been where it is today without the immense participation of women in its development.
She said she is, however, saddened that there has been a tendency to underestimate women's economic role and to under-count their participation due to definitions of economic activity.
The first lady said this in Mazabuka district yesterday when she officiated at women's day celebrations under the theme "inspiring change: celebrating Gods favour on 50 years of women's excellence and achievements".
Dr Kaseba said in line with this year's theme, it is the duty of all citizens to celebrate God's favour that has always been shown through his creation.
She said  the country has come this far  because of inspiring  change  that started years back and it must be  handed down to the next generation to carry on and keep the flame alight.
Dr Kaseba said it was important not to underestimate the economic and social worth of women in the country.
Dr Kaseba added that this year's theme aligns the entire country with the divine arrangement of God in that he made man and women equal but with different roles and responsibilities.
She said sadly many men have ignored this equality principle and instead have focused only on the biological and other roles of men and women as outlined in the bible.
Dr Kaseba noted that this is so in order to forbid women from enjoying the fruits of prosperity thereby relegating them to be subordinate to men.
She said as Zambia celebrates the excellence and achievements of women, there is need to inspire those that have been left behind.
Dr Kaseba added that when this happens, their potential to achieve excellence in their daily chores and society at large will spark a new approach to a better life.
The First Lady has further called on women to challenge their members of parliament to talk about issues that will uplift their living standards in society.
"Some of the traditions and practices have enslaved our women and girls to the devastating face of poverty, Gender-Based Violence (GBV), child marriage, HIV/AIDS and stigmatisation so much that many cannot esteem themselves" said, "Dr Kaseba.
And Southern Province Minister Daniel Munkombwe said the PF government has recognised women as key players in decision-making.
Mr Munkombwe said President Michael Sata has appointed many women in major and critical decision-making positions, a thing which has never happened in the history of the country.
Daily Mail