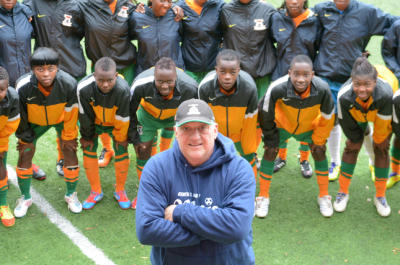 When the Zambian women's under-17 soccer team qualified for the U17 World Cup for the first time, one of its dreams came true. Now that the team is just weeks away from arriving in Costa Rica for the tournament, another dream has been realized — coming to America, Marin to be exact.
"This is a wonderful experience being in the States," Zambia coach Albert Kachinga said Monday after a training session at Marin Academy High. "It's a dream come true to go to the States. I never expected for us to be here."
The team is stationed in Marin this week while training around the Bay Area courtesy of Geoff Levy, a lifelong soccer fan who was born in Zimbabwe — "Zimbabwe and Zambia were one country when I was born," Levy explained — and is currently an assistant coach for the Marin Academy girls soccer team.
"Since I was a kid, I've played," Levy said. "My interest in female soccer piqued since I had two girls playing from when they were 6 or 7 years old."
Levy's oldest daughter, Hannah, played club soccer for Central Marin and his youngest, Natalie, played for Marin FC and Redwood High.
Levy said he spent two to three weeks a month in Zambia as the owner of a scrap metal business and a gold refinery and became involved with the country's national team two years ago, helping them get sponsorships and uniforms, among other things.
Back in November, the U17 team — known as Shepolopolo which means lady bullets — stunned South Africa to secure its qualification, and became the first women's team from Zambia to qualify for a World Cup on any level.
"It was a big deal (in Zambia)," Kachinga said. "For the first time the girls qualified. Something like this has never happened before."
As it is in many other countries around the world, soccer (or football) is a passion in Zambia.
"The sports in Zambia are soccer and boxing," Levy said. "All other things are minor sports. Everyone eats, breathes and lives soccer."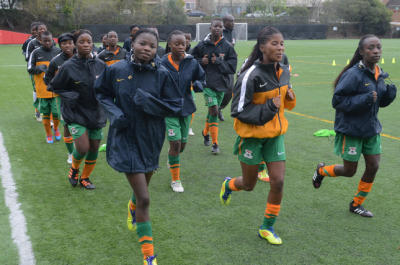 With the Women's U17 World Cup scheduled to begin on March 15, the decision was made to try to set up training in the U.S. before heading down to Costa Rica. Levy was instrumental in helping make the trip possible.
"Geoff has been awesome, a great help to us," Kachinga said. "He's been wonderful to us. He's been able to get training and fields for us, transportation to and from the fields."
The team also found time to do a little sightseeing between training sessions.
"(Levy) took us sightseeing. We saw the Golden Gate Bridge and Alcatraz prison," Kachinga said. "We've only seen these things on TV. It's been a wonderful experience."
The team will stay in Marin through Tuesday, training and playing games against USF on Wednesday and Cal on Friday before leaving for Costa Rica. Shepolopolo has drawn a tough group with the host country, Italy and Venezuela.
"It's a tough group, there are no easy games in the World Cup," Kachinga said. "It's a tough group but we hope we can come out and compete."
Levy said he plans to head down to Costa Rica once his daughter, Natalie, is on spring break and can go with him.
Contact Ian Ross via email at [email protected]