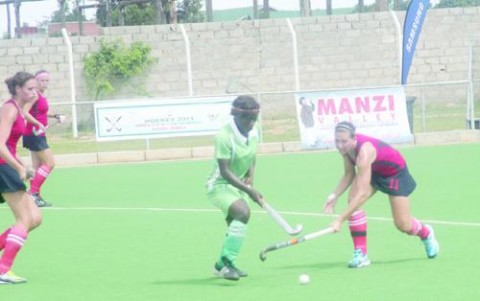 MANZI Valley Limited has donated 25 cases of bottled water to the Zambia Hockey Association (ZHA) towards the hosting of the Africa Hockey 5s Youth Olympic qualifiers slated for Olympic Youth Development Centre (OYDC) in Lusaka from March 10 to 15.
When he presented the donation yesterday at OYDC, Manzi Valley sales manager, Ephraim Ngoma said the company was committed to being part of the successful hosting of sports events.
Sports Deputy Minister, Christopher Mulenga said Government wanted to create an enabling environment that promotes public and private partnership in hosting sports festivals and allow young people to participate in competitive sports of their choice.
Mulenga said to make the pledge a reality, Government was developing a creative system of incentivising sports development in the country.
"To make practical mechanisms for this, I direct the National Sports Council of Zambia to work closely with all sports associations and partners like Manzi Valley to extend this gesture to rural communities as well," he said.
He said the collective vision should be taking sports as close to families as possible which was in line with the decentralization policy that Government was implementing.
"Partnership with the private sector will help government to identify talent for further development. Massive sports infrastructure development projects must be accompanied by an increase in incentives that will attract the youth and general populace participate in various sporting activaties," he said.
Mulenga advised the players to take advantage of being hosts and qualify for the Youth Olympics to make Zambia proud.
ZHA president Hazel Kennedy said it was encouraging to see the youth from surrounding communities being selected to the Hockey national team.
"The players are from the under-18 and have seen them grow to young men and women. This shows that the facility is providing the environment in which children in the communities can nurture their talent. If they are not in school, then they are here engaging in constructive things," she said.
She said the two teams are ion high spirit and the final squad selection will be done over the weekend.