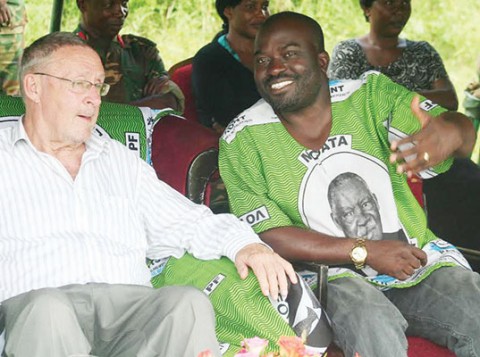 VICE-PRESIDENT Guy Scott has urged the people of Katuba to "open their eyes" and vote for Patriotic Front (PF) candidate Moses Chilando aka Big Moze in next Tuesday's poll because he has a development agenda.
Dr Scott said Katuba has lagged behind in development because the residents had inclined themselves with inadequate opposition law-makers who lacked the ability to deliver.
He is concerned that 50 years after Zambia attained its independence, people of Katuba still lack access to quality health facilities and roads largely because they chose to work with recycled politicians.
He was speaking in Katuba yesterday at two rallies at Moomba Secondary and Kapopo Primary schools to root for Mr Chilando.
Other candidates in the February 25 by-election are Jonas Shakafuswa of the
United Party for National Development (UPND), Patricia Mwashingwele of the Alliance for Better Zambia (ABZ) and Joseph Mushalika of the National Restoration Party (NAREP), Shakespeare Mwakamui of the National Revolutionary Party, Allan Malawo of UNIP and Cecil Holmes of the MMD.
"My appeal to the people of Katuba is that you have to open your eyes and vote wisely. Vote for a candidate who will address your needs," the Vice-President said.
"Don't vote for the opposition but instead support the Patriotic Front government by voting for Mr Chilando," Dr Scott said.
He said the people of Katuba should allow the PF government to deliver its 2011 campaign promises by voting for a leader who will foster development to better people's lives.
Mr Chilando has assured the people of Katuba that he will work hard if elected member of Parliament (MP) for Katuba and implement projects that will improve the welfare of people in the area.
"I am asking for your votes and if you the people of Katuba vote for me, I will ensure that I bring development to the area. You should not risk by voting for the opposition because this retards development," Mr Chilando said.
All other candidates in the by-election have intensified their campaigns with most of them now on door-to-door campaigns and have promised to bring meaningful
economic development in the area.
ABZ's Patricia Mwashingwele who was found campaigning said her election would ensure massive development in the constituency.
She said that what Katuba has lacked can best be provided with her as their MP.
UPND secretary general Winston Chibwe is hopeful that their party candidate will scope the seat.
Mr Chibwe said in an interview in Katuba that people are tired of development promises by the PF government and now want to work with UPND to foster development in the area.
"There is no doubt we will scoop this seat whether the PF likes it or not," he said.
NAREP's Joseph Mushalika called on the people of Katuba to vote for him as he is an experienced person in politics.
He also called for peaceful campaigns and that he is the right person to foster development in the area.
NRP's Shakespeare Mwakumui has also called for peaceful campaigns and that he is in good stead to be the next MP.
UNIP's Allan Malawo has also promised to work hard to improve the living standards of people if elected.
MMD's candidate Cecil Holmes urged the people of Katuba to vote for him so that he can address the challenges that the area is experiencing, particularly in infrastructure and water reticulation.