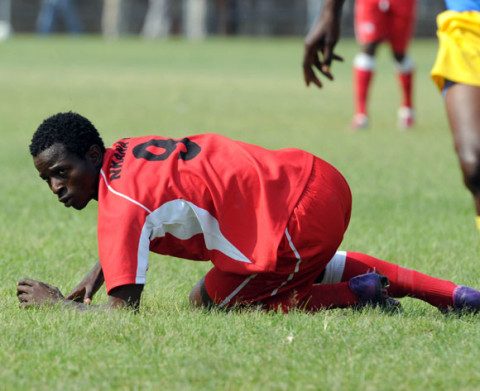 NKANA striker Ronald Kampamba and three other players are nursing injuries and are a doubt for this Saturday's Samuel 'Zoom' Ndhlovu Charity Shield final against Red Arrows.
Others in the treatment room are Donashano Malama, Kelvin Mubanga and Noel Phiri.
Coach Masautso Mwale confirmed in Kitwe yesterday that the quartet has not trained since Monday.
He said the players picked up injuries during Saturday's preliminary round return leg against Mbabane Swallows, which Nkana won 5-2.
"We asked them to go and be examined. Otherwise they have missed training sessions for Monday and even today (yesterday)," Mwale said.
He, however, did not disclose the types of injuries.
The Charity Shield final is set for Arthur Davies Stadium in Kitwe.
"They are doubtful for the Charity Shield final but we will see if they will be any improvement," Mwale said.
He, however, expressed confidence that the four players will be fit for the 2014 CAF Champions League first round first leg against Ugandan side Kampala City Council Authority.
"Luckily, we still have a bit of time before we play in the CAF competition. We are happy that we will have the players back by the time Kampala will be coming," Mwale said.
Meanwhile, Mwale has declared his team ready for the match against Arrows.
He said there is enough cover for the injured players.
"In fact my plan is to use mostly the players that we have not registered for the CAF games. Some of them have not played a single game so the idea is to give them a chance in the Charity Shield," Mwale said.
To get to the final, Nkana beat Nchanga Rangers 2-0 while Arrows edged Zesco United 2-1.